By Edouard Aldahdah
Posted on May 19th, 2014 in Bahrain
To continue with the series of this year's foals, here are a couple from Regine and Warren Staas in Germany, from desert Saudi-Bahraini lines, tracking to *Savannah in tail female.
This black filly is alredy on allbreedpedigree.com (here) by AAS Japik (AAS Sail out of AAS Al Kamila) out of AAS Ghazala, and both dam and daughter look splendid!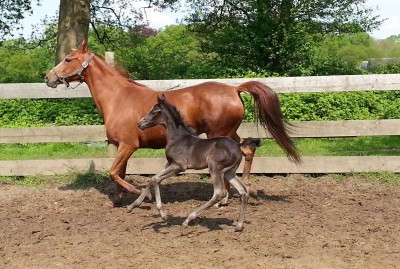 The chestnut colt below is also a Dahman, by AAS Japik out of AAS Muharraq (AAS Theeb x AAS Ghazala), and is also a promising one. These are all close lines to the desert, and as Lady Anne Blunt wrote in her Journals about a mare of same strain and same origin (Bint El Bahreyn) "the Dahmeh Shawanieh from Ibn Khalifeh, she is a fine mare and authentic" (Dec. 22 1907) and "authentic blood from eastern Arabia is rare" (Dec. 30 1907). It still is.