By Edouard Aldahdah
Posted on December 17th, 2010 in General
The 1981 mare Bucolique (photos below) by the Tunisian stallion Besbes (Esmet Ali x Karaouia by Loubieh) out of Berthe (Irmak x Bassala by Masbout d.b.) is one of the last asil representatives of the highly regarded "B" line of the French government stud of Pompadour. The line traces back in tail female to Wadha, a desert-bred Jilfat al-Dhawi, bred by the Fad'aan and imported by the French government to Algeria in 1875.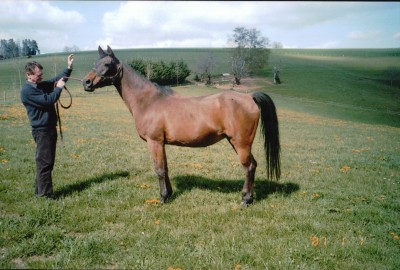 In France, this line was inaugurated by the importation of the Algerian asil mare Bassala (Masbout d.b. x Saponnaire by El Managhi d.b.) to Pompadour. Bassala produced three remarkable asil daughters: Belle de Jour (by the asil Iricho), Berthe (by the asil Irmak) and Bossa Nova (by Iricho), which Robert Mauvy held in very high regard. I wrote about Bossa Nova here.
The second daughter, Belle de Jour in turn produced two daughters by Irmak: the bays Belkis and Bismilah, both of which went to preservation homes, with Jean-Claude Rajot and Adrien Deblaise, respectively. Both Jean-Claude and Adrien bred the line pure for a couple more generations during the 1980s and 1990s.
The third Bassala daughter produced two daughters by Besbes: Best and Bucolique. The first one I talked about here, the second, I hardly had the occasion to mention before.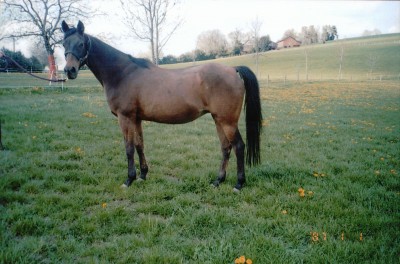 When I saw her and took these pictures in 2006, Bucolique was owned by Haras du Cayrou in central France, and like most mares from her lines, had produced a string of race winners by the "pseudo-Arabian" stallion Dormane and other equally doubtful horses. Bucolique struck me as one of the most balanced and well conformed mares I had seen in France, with a long neck, excellent legs, and highly set tail. There was something very Bedouin, deserty and dry about her face, despite the straight profile.
Although the mare was retired from breeding, her owner was open to leasing her to me so I could breed her to an asil stallion and safeguard this line. While he bred racehorses (by Amer, Dormane, Manganate, and the like), he also recognized the special value of Bucolique, and was ready to help. I selected the 1983 stallion Rubi De La Mouline (Ilamane x Hamma by Raoui), mainly because of his sire Ilamane, who was born at Admiral Cordonnier's stud in Tunisia, and I went to see the stallion and negotiated a stud fee. But everything fell through when I left France a few weeks later, and I was not able to follow up as closely as I wanted to.