By Edouard Aldahdah
Posted on December 10th, 2009 in General, Iran
Monique Brandenburg from the Netherlands sent me this picture of a chestnut Arabian stallion from Iran, along with some information.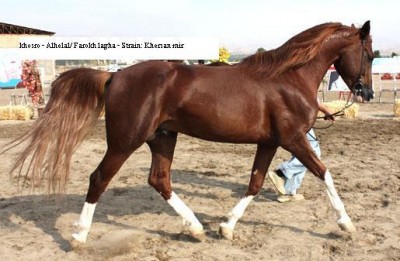 Before delving into discussing these extremely interesting horses, let me say a couple things upfront: first, Iran is not an Arab country; it is an ethnically diverse country populated by ethnic Persians (who speak Farsi, among other tongues), Turkmen and Azeris (who speak Turkic dialects) and Kurds (who speak Kurdish), among others.  That said, Iran does have a small Arab minority of about 1 million people (who speak Arabic), mainly but not only concentrated in its south-western province of Khuzistan. Many of these Arabic speakers belong to long-settled tribal groupings like Bani Kaab and branches of Bani Lam. The latter are originally from Central Arabia way back and are well known breeders of asil Arabian horses.
So in many ways Iran is like Egypt: neither are in Arabia Deserta, the homeland of the Bedouin and their desert Arabian horse, but both nonetheless have a very small population of settled peasant Arabs tribes in the parts of the country closest to Arabia Deserta (e.g., Egypt's peasant Tahawi tribe in the Sharqiyah province). These tribe kept breeding Arabian horses, and neighboring Persian tribes like the Bakhtiaris also bred Arabians. The late Mary Gharagozlu, who bred some of these horses for a long time, has a well known article on the Arabians of Iran.
Monique Brandenburg tells me about two hundred Arabian horses are left in Iran. Many are of the Wadnan Khursan (a strain originating from the Bani Lam), the 'Ubayyan Sharrak and the Hamdani Simri strains. Monique herself has leased a mare that traces partly to these Iran horses. Her pedigree (disclaimer: it's from allbreedspedigree.c0m) is noteworthy is the sense that it is exceptionally long, almost as long as Crabbet and Egyptian pedigrees (1880s). Monique will be sending me more information on these horses over the next few days..