By Edouard Aldahdah
Posted on December 9th, 2011 in Syria
This mare, Al-Shumuss, was at the stud of Mustafa al-Jabri in Aleppo in the 1990s, and her dam was at Radwan Shabareq's. She was a Kuhaylat al-Krush, by a Hamdani Simri who was himself by the black Saqlawi Marzaqani stallion of al-Anoud, Princess of Tai; the mare's dam was by the same black Saqlawi Marzaqani.
The line came from the Shammar, from Rakan al-Nuri al-Mashal al-Jarba, but before that it was his maternal uncles the Tai chiefs; and while most everyone among the horse breeders in Syria thought this line traced back to the Krush al-Baida marbat of Mayzar 'Abd al-Muhsin al-Jarba of the Shammar (it is even registered as Krush al-Baida in the Syrian studbook) which ultimately goes back to the Mutayr Bedouins, it turned out, following questioning of the elders and leaders of the Tai Bedouins in the late 1990s that this Krush marbat actually came from the Fad'aan Bedouins of the 'Anazah.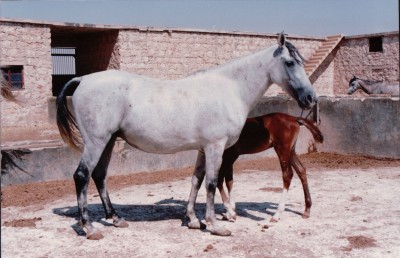 There are two distinct lines of Kuhaylan Krush in North Arabia: one going back to the Fad'aan 'Anazah (like Krush Halba below, like the Davenport import *Werdi, like the mare in this picture), and another line, known as Krush al-Baida (the white Krush) going back to the Mutayr through the Shammar (like Mokhtar, the Syrian stallion in France). I am still not sure how the two relate to each other. I haven't able so far to trace one marbat to the other, or both to a common root marbat.
Below is another picture of the same mare, a few years later.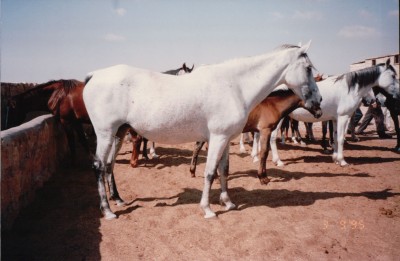 This is the mare I thought was reminiscent of the Davenport Second Foundation mare Asara (who traces to *Werdi) in body structure, although this photo does not show it well. The grey mare behind the Krush mare in the photo just above, with the dark hair, is the 'Ubayyat al-Hunaydis mare Muna. Both photos taken by me at different times in the 1990s.