By Edouard Aldahdah
Posted on October 21st, 2011 in Syria
Ameenah was the foundation mare for all the Kuhaylan al-Mimrah horses currently in Syria. They all trace to her in the tail female. She was bred by the Tai Bedouins, from a marbat that had belonged to the Shammar, and which traced all the back to the Muwayni' clan of the Sba'ah Bedouins, who own the strain of Kuhaylan al-Mimrah.  If a Kuhaylat al-Mimrah cannot be traced back to the clan of Ibn Muwayni', then she is not a Kuhaylat al-Mimrah. That's because the original man known al-Mimrah belonged to the Muwayni' clan. The Muwayni' clan, one of the noblest of the 'Anazah confederation, were such famous breeders of Arabian horses that they were known as 'ahl al-khayl', the "people of the horses". Nahar Ibn Muwayni' is one of the Bedouin witnesses in the 'Abbas Pasha Manuscript.
Ameenah was sired by the "first horse of Juhayyim", a Kuhaylan Hayfi who was used by Juhayyim al-Mitkhan of the Tai as his breeding stallion (he later stood a Kuhaylan al-Krush at stud, and this was the "second horse of Juhayyim"); her dam was sired by the "second horse of 'Ebbo", a Saqlawi Jadran of the strain belonging to Dari al-Mahmoud of the Shammar, but which was used by 'Ebbo al-Humayyid as a herd stud for the Tai Bedouins in the 1950s.  You will recall that Dari had sought refuge with the Tai in Syria the 1920s, after he had killed the British military intelligence chief in Iraq, an incident which sparked a country-wide rebellion against British rule in Iraq.  The "first horse of Ebbo" was a Saqlawi Jadran and was closely related to the second, and he was probably directly bred by Dari or one of his sons. Ameenah's grand dam was sired by a Kuhaylan al-'Ajuz from the marbat of Bardan Ibn Jlaidan of the Shammar, a strain that goes back to the original Kuhaylan al-'Ajuz horses of the Sharif of Mecca.
In a nutshell, Ameenah was from the best blood in the Syrian desert, and her owner, Mustafa al-Jabri was rightly proud of her. She was his favorite mare, and he would call her "Mama", or 'mother'.
One of Ameenah's daughters, Hallah, is frequently featured on this blog, and so are Hallah's sons, Basil by Mahrous, and Zaarour al-Barary, by Ihsan al-Thani. Zaarour sired two of the Syrian horses now in France, Mahboub Halab, a Shuwayman, and Nimr Shabareq, a Ma'naghi.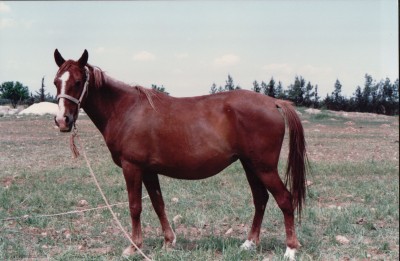 PS: I took this photo is 1989 on my first visit to Mustafa's stud. I was 11 then. I will be really upset to see this photo on a specific Facebook page without due credit to both the photographer and the owner of the horse. This is why I haven't been posting photos of these horses in a while.