By Edouard Aldahdah
Posted on August 28th, 2011 in Egypt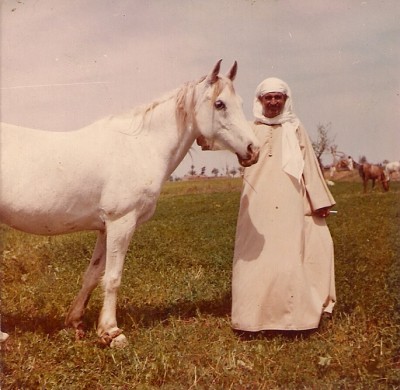 In a few days, Al Khamsa will be in a position to announce a very good news concerning the last remaining asil horses of Tahawi bloodlines.
In the meantime, I am sharing with you this 30 year old photo, which Yehia al-Tahawi, a member of Cairo's Jockey Club and otherwise a breeder of Straight Egyptian Arabians of modern Tahawi lines (Fulla, Futna, and Bint Barakat), sent me of his father Sheykh Abd al-Sattar 'Eliwa al-Tahawi with his asil Kuhaylah Tamriyah Ammoura ('Darling' in Arabic).
Ammoura traces to a desert bred K. Tamriyah mare imported to Egypt by Sheykh Quwayti' Smayda al-Tahawi from the 'Anazah Bedouins in the Syrian desert. Her sire is a Hamdani Simri horse called "Ibn Damas" bred by Mohammed Fergani El-Tahawy, and tracing back to a Hamdaniyah Simriyah mare imported from the Sba'ah Bedouins.
Yasir Ghanim who supplied all this information from his cousin Yehia also tells me Ammoura has an asil granddaughter that is still alive today. This news is a great ray of hope for the Arabian horse in general and for the Kuhaylan Tamri strain in particular, of which this mare would be the single remaining representative, as far as I know.