By Edouard Aldahdah
Posted on July 29th, 2009 in General
Another Hearst import to the USA in 1947 is *Bint Rajwa, who came with her dam *Rajwa, and her full brother *El Abiad.  There were essentially two groups of Hearst horses: one group was bred in Lebanon, from well-established Lebanese asil lines, and included the horses: *Bourhane, *Kouhailane, *Layya, *Lebnaniah, *Mansoura, *Nouwayra, *Najwa, and *Mounwer; another group was desert-bred, and had come from the Syrian desert to Beirut for racing purposes. This second group included *Arkane, *Snounou, *Ghamil, and *Rajwa.
Rajwa's recorded strain is Saqlawi "Ejrifi", a marbat I have never heard of before, and the name of which I believe is misspelt. It may well be Saqlawi Arjabi (alternative spellings: Erjibi; Rajabi), which is the fourth and last of the four main branches of the strain (Jadran, Ubayri, Arjabi and al-Abd), but I am not sure. I will need to check this one.
Bint Rajwa is Rajwa's daughter by a famous asil Arabian horse of Lebanese breeding: the grey Karawane, who raced in Beirut in 1940s in the ownership of Henri Pharaon (who else?) and was otherwise known as "Karawane al-Azim", i.e., Karawane the Great. A picture of her is appended below, from the website of Suzi Morris' Ariena Arabians, courtesy of Nayla Eshelman: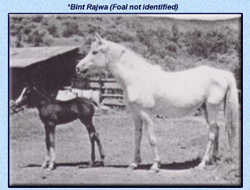 If *Bint Rajwa were to be accepted by Al Khamsa, then a very small number of her descendants would be Al Khamsa eligible today. That's because *Bint Rajwa produced the mare Gulastra Raajiah by Gulastra; and that mare in turn produced the stallion Sheik Hallany by Hallanny Mistanny. Sheik Hallany, who was the last asil tail female descendant of *Bint Rajwa, produced among others the mare TCR Saantanny, out of the mare HMR Saandra (Saandman x SL Rodorzah, a Saqlawiyah Jadraniyah from the Ayerza South American breeding). TCR Saantanny has five otherwise eligible descendants born after 1978. These are:
These are (and thanks to Jenny Krieg and Eva Dano for digging these out):
— TCR Hallanys Idol 420100 g mare 1988 by Sheik Hallany x TCR Kasaandra, double *Bint Rajwa
— TCR Mista Rousse 174140 g stallion 1978 Fa-Rousse x TCR Saantanny
— TCR Kasaandra 192416 b mare 1979 Kazmeen Ibn Shiko x TCR Saantanny
— TCR Kaatanny 305274 b mare 1984 Kamaal El Shiko x TCR Saantanny
— TCR Fa Hallany 443256 b stallion 1989 TCR Mista Rousse x TCR Kaatanny, double *Bint Rajwa
It may well be worth doing some more research on *Rajwa and *Bint Rajwa, for future proposal to the Al Khamsa Roster. In this context, here is the Al-Dahdah Index's entry for *Bint Rajwa's sire Karawane:
—————————————————————
KARAWANE: (known as Karawane al-'Azim, 'the great') a grey asil stallion [photo available];
Strain: Ma'naqi;
Sire: Ghazwane [not sure, information from one source only];
Dam: a Ma'naqiyah of the horses of al-Hajj 'Ajam [who is he?] according to a copy of an old hujjah in my father's possession;
Karawane won many races in Beirut, and was later used as a breeding stallion. Karawane was the sire of the Kuhaylah Nawwaqiyah mare, granddam of the asil Bint Mawj al-Athir, and of the asil Hindi stallion Arkane [not the Hearst horse, but another Arkane], out of the Sa'da Tuqan mare Rabab (herself by Ghazal, the paternal grandsire of two other Hearst imports, *Layya and *Mounwer. Karawane was also the sire of the US Hearst imports *Bint Rajwa and *El Abiad.