By Edouard Aldahdah
Posted on March 14th, 2008 in Syria
I am never tired of showing this picture of the lovely mare Wadeehah, a 1970 desert-bred Asil Ma'naghiyah Sbayliyah from the marbat of 'Atiyah Abu Sayfayn.  The strain is also known as Ma'naghiyat Abu Sayfayn.  I took this picture of Wadeehah in 1992 in Aleppo, Syria, where she spent the latter part of her life in the ownership of my friend Kamal 'Abdul Khaliq. 
It is a shame Kamal never managed to get a filly out of her, only colts.  She did produce the mare Sayfia, however, which is the subject of an earlier post. Sayfia is now in her early twenties and is still in the desert with 'Abdallah Abu Sayfayn, 'Atiyah's son.  Sayfiah has now a filly by a Saglawi Jadran of from the tribe of al-Baqqarah. So the line goes on.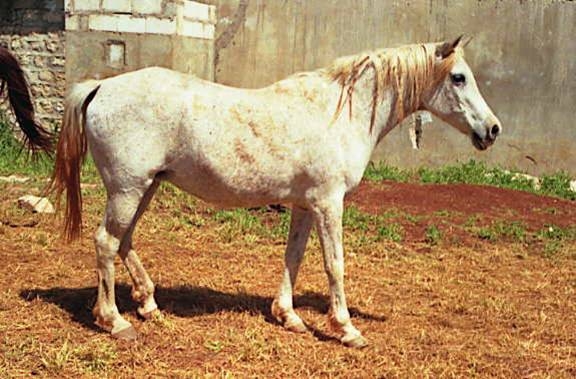 Kamal had bought Wadeehah in 1982 from 'Atiyah Abu Sayfayn himself.  She had a young colt by her side.  The colt, named Marzuq, was accidentally hit by a truck soon after arriving at Kamal's, but he survived his hinquarter injury and went on to become a leading stallion for Kamal, leaving plenty of splendid colts and fillies, before dying a few months ago. The most striking thing about Marzuq was his kindness.  You could leave him to roam freely in the barn with the mares and the fillies by his side, and he would never try to harm them. He was gentle yet full of life. He had a way of looking at you, which would leave an imprint on your soul, forever.  I feel that the picture below, which I took of him in 1996, shows both his strength and his gentleness.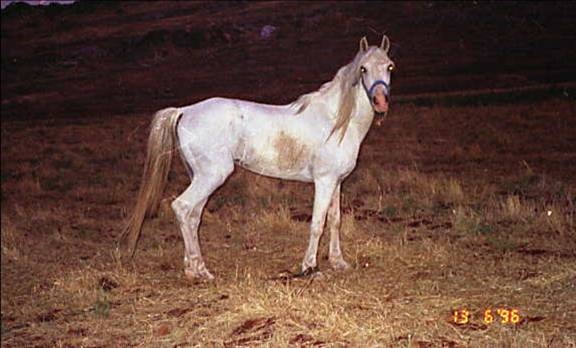 The point I am trying to make here should be clear by now, but I will hammer it again: Ma'naghis are not coarse, nor plain, nor angular. No strain has the monopoly of coarseness, of that of feminity or masculinity, or any particular characteristic for that matter.  There are plain horses from any strain including Ma'naghis, just like there are round and masculine horses from any strain, including Ma'naghis.  Just look at Wadeehah.  And by the way, the argument that Wadeehah is some sort of an outlier, not a true representative of her strain, does not hold here. First because there is no such thing as "a true representative" of any strain, and second (in case you don't believe my first argument) because her sire is a Ma'naghi Abu Sayfayn from the same marbat. 
So, enough picking on Ma'naghis!
Okay, I already feel better now that I vented out my anger. Until the next time I get angry again.