By Edouard Aldahdah
Posted on September 1st, 2008 in Syria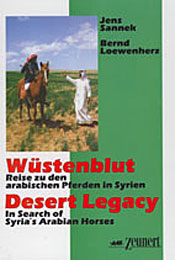 In 1997, Jens Sannek and Bernd Loewenherz published what is perhaps the most interesting book to be written in recent times by Western travelers looking for Arabian horses in their original homeland.
Traveling with a party of about 14 people which included French preservation breeders Jean-Claude Rajot, Louis Bauduin and Benoit Mauvy, as well as several young children, and joined by Syrian guides and friends, Jens and Bernd visited the Syrian cities of Damascus, Aleppo, Hama, as well the Syrian desert, from Palmyra to Der el Zor (map here), for about two weeks. They described and photographed many of the older Syrian desertbred horses I grew up around (such as Mahrous, Mashuj, both now deceased and Mokhtar, still alive and now in France with Chantal Chekroun). They even met with some of Syria's last truly nomadic Bedouin clans, the 'Affat al-Dbayss – a clan from the Fad'aan tribe that owns a good marbat of Ma'naghi Sbayli in the general vicity of Der el Zor. Their book, written in German with an English summary at the end, is full of insights and anecdotes, as well as factual information, and gives one an excellent overview of the state of Syrian Arabian horse breeding in the late 1990s. Unlike other contemporary accounts I have come across, the authors' description of the people they encountered, the Bedouins in particular, is symphatetic and respectful. The book also contains a list of the strains of the Arabian horses to be found in the Syrian Studbook, and short account on each strain, drawn from different (uneven) sources. Several general articles about Arabian horses are appended at the end.
Gentlemen, my hat is off to you! We need more people like you!