By Edouard Aldahdah
Posted on June 10th, 2017 in Egypt, General
Republishing this beautiful post, which I first published on October 7th 2013 after a visit to my friend Yasser Ghanem Barakat in the Nile Delta. We were chatting today and he confirmed to me the original 'Amarat provenance of that line (see below). In the 1950s, Shaykh Mahrooth Ibn Haddhal, Shaykh of the 'Amarat Bedouins, had responded to an inquiry by Shaykh Tahawi Said Mejalli al-Tahawi about the origin of the Tahawi Ju'aythini line with a hujjah that the line belonged to his Ibn Haddal clan.
Yasser tells me he thinks the line came from the Syrian desert to the family of Mejalli al-Tahawi then to Sh. Soliman Eliwa al-Tahawi, but that is to be confirmed. Original post follows.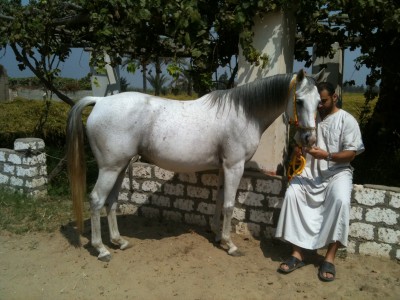 Last weekend I was Yasser Ghanem's guest at his countryside farm in Abu Kebir in the Nile Delta area of Egypt, and I took this photo of him and his powerful Kuhaylah Ju'aytiniyah mare Bushra (Malek El Khayl x Bint Bombolla by Najm Tareq). It shows the quality and strength of some of these Tahawi desert bred Arabians. While there, I learned from Yehia Abdel Sattar al-Tahawi that his grand father Abdel Hamid Eliwa got the original Ju'aytiniyah mare from the Mawali Bedouin tribe of Syria through a middleman called al-Skaffi.\
I maintain that the strain goes back to Ju'aitin one of the ancestors of the Ibn Haddal clan of the 'Amarat 'Anazah Bedouins but I have no way to prove it so far.