By Edouard Aldahdah
Posted on January 17th, 2013 in General
Today marks the 5th anniversary of Daughters of the Wind, and the 5th anniversary of my daughter Samarcande who inspired this website. She is now a young lady, a future champion swimmer and horse-back rider. She also loves ice cream..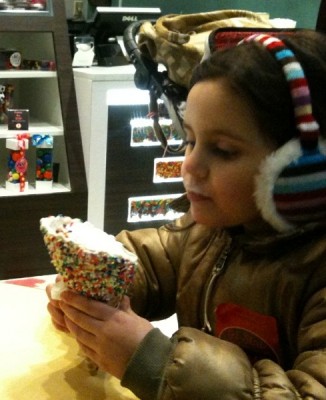 I realize I have been less active than in previous years; this is partly because I am a much busier person now than I was before, and partly because the needs to act, and act fast, before it is too late on preservation emergencies in North America. This has increasingly shifted my focus from advocating for the preservation of the precious few Asil Arabian horses to actually helping undertake the time-consuming, labor-intensive, tedious and often uninspiring but oh-so-rewarding tasks of preservation in the context of the Al Khamsa Preservation Task Force: identifying the horses; contacting their owners, finding new homes; arranging leases, shipping, following up on breeding, etc.
I will also be moving to Egypt for work in a few months, for a two or three year stint, and I hope I will be both less busy at work and more active on this website.
Meanwhile, Samarcande was joined by a little sister three months ago. Solenn Hend Al-Dahdah is the latest Daughter of the Wind. Another online project, on Arabic language and etymology, is in the works to mark her arrival to this turbulent world.