By Edouard Aldahdah
Posted on November 3rd, 2009 in Syria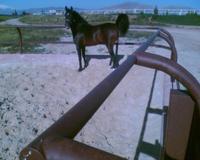 Above is a distant photo of another son of the desert-bred Kuhaylan al-Musinn stallion Raad. This is Hussam al-Shimal, a Kuhaylan al-Nawwaq stallion from the marbat of Sa'ed Ameen Yakan, in al-Bad, north of Aleppo.
Hussam is going to be sent to France where he will stand at stud with Arnault Decroix.
I am no fan of the show-ring. I firmly believe that an asil Arabian horse was not born to be paraded around like a puppet, and that among all asil Arabians, the Syrian asil horses deserve this ridiculous treatment the least (these were war and endurance machines, remember), but I thought it was worth noting that Hussam, this son of a desert-bred, was twice Syria's National Reserve Champion.