By Edouard Aldahdah
Posted on August 21st, 2012 in General
This is one of my all time favorite Arabian horse photos.
The stallion featured in it, the 1971 chestnut Saqlawi Jadran Ibn Tirf (Sutan x Shillala by Gulson), is one that I would have liked to breed myself. Ibn Tirf was owned by the late Joyce Gregorian of Upand Farm, who wrote this beautiful article about him. Incidentally, my own Jadiba was originally purchased by Joyce as a yearling for breeding to Ibn Tirf, as per Joyce's own words in the 1989 article:
"While my first loyalty is to my Davenport program, Ibn Tirf has had influence on my buying as well as on my breeding. The Saqlawi al-Abd (*Wadduda) filly, Jadiba (Dib x Jabinta), was bought for his future harem; an Al Khamsa filly combining "Doyle" Egypt/Blunt, Davenport and Hamidie Society bloodlines… In strain and pedigree he is a felicitous example of the complementary blend inherent in "Doyle" Egypt/Blunt and Davenport lines, a combination suggested by Carl Raswan both in The Arab and His Horse, and in The Index."
Ibn Tirf and his two daughters, who left no offspring, were the last representatives of this historically very successful Blunt/Davenport cross. Ibn Tirf was 75% Blunt through the Doyle horses, and 25% Davenport through his sire's dam Antan. His sire Sutan (Subani x Antan), bred by Charles Craver in 1960 was an earlier representative of this cross. By the late 1950s, Charles was already dedicated to his 100% Davenport program, but his mare Antan and his stallion Tripoli could not produce a live foal together, and Tripoli's 1958 son Sir was still a yearling then, so Charles bred Antan to the Doyle stallion Subani (Ghadaf x Im Gulnar), resulting in Sutan.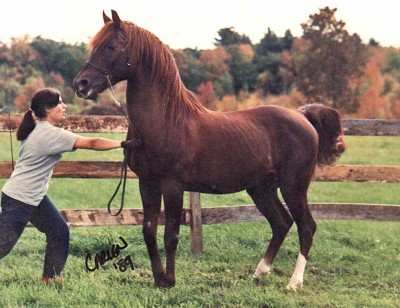 This photo of Ibn Tirf (click on it to enlarge it), this quote in Joyce's article, and Charles' choice of Subani to breed Antan were some of the reasons I chose to breed Jadiba, whose pedigree is 87.5% old Blunt/Doyle blood with a close cross to Subani, to the Davenport stallion Vice Regent CF, who has two lines to Antan, one more to Antan's sister Maedae (by Ibn Hanad), and another to Antan's brother Ibn Hanad (by Hanad). My hope is that the resulting foal, the 2012 colt Jamr Al Arab  (Vice Regent CF x Jadiba) would look as close to Ibn Tirf as possible, and recreate the magic in that cross. It's still too early to tell, but I am pleased with the colt from what I have seen so far.
There is a reason why Shirin Samiljan, who Joyce's niece and the lady in the picture, looks like she was pushing the horse. Shirin says: "I had Tirf all set up for a conformation shot, and then there was a ruckus in the barn off to the left. He jumped forward, I leaned in, and the shot was taken. I always felt a little bad about the setup — it looks as if I'm angry at him, whereas I was mostly startled." The photo was taken by equine photographer Carien Schippers of Imagequine.com, and was on Teddy Lancaster's (who had Dib, Jadiba's sire) now defunct website.