By Edouard Aldahdah
Posted on July 16th, 2010 in General
Robin Weeks is spoiling me with photos of horses she owned, which happen to be horses I like a lot, and I am on a roll. Here's a couple of pictures of the Ma'naqiyah Sbayliyah mare Soiree (Sir x Sirrulya by Julyan) in old age. She was bred by Jeanne Craver, and later owned by Robin Weeks. A favorite mare of mine, as you can tell from the several blog entries about this family.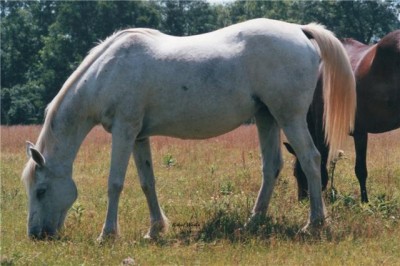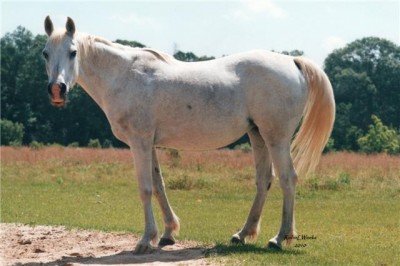 By now I think it's time I shared with you the news that I am working with Kathy Busch of Kansas City, MO, on leasing a 25 year old chestnut daughter of Soiree which she owns. Her name is Dakhala Sahra (Plantagenet x Soiree by Sir), she was also bred by Jeanne Craver, and she is all I am thinking about these days. She's been treated at the vet clinic recently for a minor uterus infection, and she'll be ready to be bred over the next couple weeks via artificial insemination. I am still looking for the right stallion for her, with 'right' in this case including 'ready to collect from and ship' in addition to the other meaning it has for me.
By the way, both the Ma'naqiyah Sbayliyah mare Soiree, and the Saqlawiyat al-'Abd mare Dahriefa which was featured today, are both from Mrs. Ott's Blue List program, which along with Charles Craver's Davenport program, spearheaded the revival of asil Arabian horse breeding in the USA back in the 1950s and 1960s.