By Edouard Aldahdah
Posted on March 10th, 2016 in General
This is my 2013 Kuhaylat al-Krush filly, Mayassah Al Arab (Clarion CF x Cinnabar Myst by ASF David). Three years old this summer. I am very proud of this filly I bred for several reasons. She embodies my preservation efforts.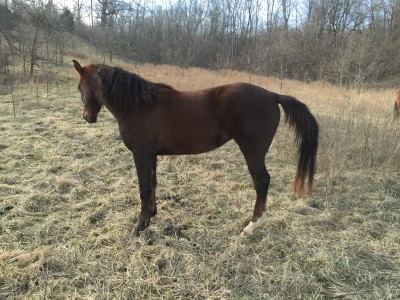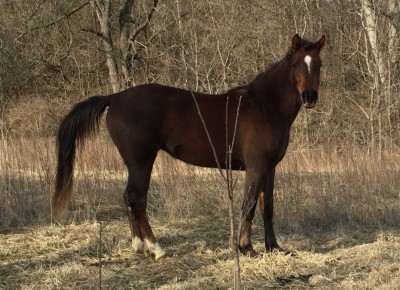 The antiquity of her bloodlines is an obvious reason: for instance, Abu Zeyd (Mesaoud x Rose Diamond), b. 1904, is just five generations away. For comparison, he is thirteen generations away in a stallion like Marwan Al Shaqab. The extreme rarity of her lines, too: the stallions Gharis (Abu Zeyd x Guemura by Segario), Fartak (*El Bulad x *Farha), Abu Selim (*Azra x Domow), Tabab (*Deyr x Domow), Royal Amber (Ribal x Babe Azab), and Oriental (Letan x Adouba), were all popular stallions in early Arabian breeding in America, with thousands of descendants in general list Arabians, and she is very much the last Al Khamsa horse that traces to them — and pretty closely too.
The effort I went through to make that breeding happen is a third reason. I leased, then acquired her dam and her dam's sister from Trish Stockhecke in Canada. They were 19 and 20 years old, and had never been bred before. The older mare was bred to Aurene CF in 2011 (Triermain CF x Aureole CF) but slipped the foal. That was a big loss because she was the better mare of the two. Then Jeanne Craver agreed to take both mares on, and Kirby Drennan agreed to breed the younger mare to Clarion CF (Regency x Chinoiserie). In the late stages of her pregnancy, Kim Davis took the mare to her farm, and foaled and raised Mayassah until weaning age. Mayassah is now at Craver Farms.
Finally, I like how different she is from other Al Khamsa horses. The length of her hip. The strength of the coupling. The inclination of the shoulder. The depth of the girth. The high croup. The balance. You feel you are standing next to an unfolding racing machine. She moves very nicely too, effortlessly, lightly, like a feline, as if there were air cushions under her, and I did not expect that. She has a lot of growing left, and is not three yet. On the downside, the ears are small, and the head, despite the deep jaws and the broad forehead, is plain.