By Edouard Aldahdah
Posted on September 3rd, 2011 in Bahrain, Bahrain
Last year, Jenny Krieg and Rodger Vance Davis teamed up to take two of Rodger's mares to be bred to the old Bahraini stallion *Mlolshaan Hager Solomon, in Michigan. This stallion, who came from Bahrain as a gift to his present owner Bill Biel, is currently the only stallion in the USA who was born in Arabia Deserta. Until then he had produced one asil mare, and Jenny decided to do something about the 24 year old stallion got any older.
Rodger's Dahmat Shahwan mare foaled a big handsome colt with the foot turned the wrong way who had to be destroyed. But his Ubayyah mare, who is tail female to *Mahraa of Ibn Jalawi of Saudi Arabia, foaled a very special filly for Jenny last month, named Ubayyat al-Bahrain, below. I wished we had more fillies displaying as much character and true Arab features as this one.
Jenny even tells me there are plans to bring two other Saudi mares from Rodger's to Solomon this year. Fingers crossed for that, and for more Solomon foals.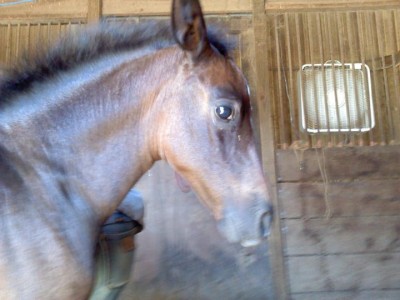 Photo by Jamie Lamborn.