By Edouard Aldahdah
Posted on June 23rd, 2010 in Arabia, Syria
Reader Chantal Chekroun of France just sent me these recent photos of her desert-bred stallion Mokhtar (Awaad x Doumah), a 1987 black Kuhaylan al-Krush from the Shammar tribe in north-eastern Syria.
This venerable horse has been regularly featured on this website, and for good reason. He is the epitomy of asil.
Mokhtar is a Kuhaylan al-Krush, tracing to the marbat of the Sheykh Mayzar Abdul al-Muhsin al-Jarba, Shaykh of the Northern Shammar. This precious marbat goes back to the 'white Krush' of the leading Dawish clan of the Mutayr Bedouins, who are the most famous custodians of the strain.
Mokhtar was bred by Ayadah al-Khalaf, known as al-Qartah, who took control of the marbat from Mayzar's family, and bred the Krush horses to each other for two or three generations. Syrian breeder Basil Jadaan of Damascus acquired Mokhtar as a yearling in the late 1980s, and later bought his sire Awaad and his double grand-dam Mumtazah both in extreme old age.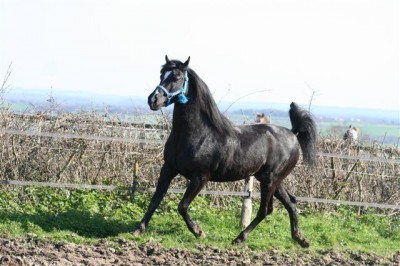 Mukhtar was a leading sire  at Jadaan Arabians for several years, producing a number of influential sons and daughters such as Al-Qaherah, a black Shuwaymat Sabbah mare and the founder of a dynasty at Basil's; Hayel, a black Saqlawi Shaifi of Shammar lines; Shawal, a bay Shuwayman Sabbah of Tai lines, and the grey stallion Marwan, a Saqlawi Jadran of precious Shammar bloodlines from the Ibn Amud marbat. I will show some of their pictures later on.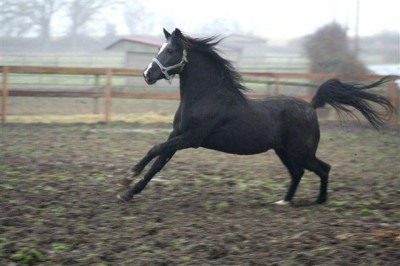 With two or three sons to replace him, Mokhtar was gifted to a lady who took him to France, and ended up with Chantal Chekroun after that lady passed away. At Chantal's Mokhtar produced the bay stallion Manjad Maram al-Baida, out of the Syrian mare Hijab (Mubarak  x Marwa), a half sister to Marwan mentioned above. A number of French preservation breeders, including Jean-Claude Rajot and Louis Bauduin, have used Mokhtar on their mares of Tunisian and Algerian lines.
Mokhtar also produced and continues to produce offspring from Chantal's Egyptian mares, and at 23 still retains a lot of his agility and beautiful movement. He certainly produces better than himself and none of his offspring I have seen have inherited some of his more obvious defects: a rather full neck (typical of many desert Arabians in the rough) and too much distance between the ears. The straight profile has never bothered me, because the dry head, the large eye and the deep jowls more than make up for it. Chantal describes him as a 'lord' (un seigneur), and indeed he is so.