By Edouard Aldahdah
Posted on February 11th, 2016 in General, Syria
I scanned this archive photo of a famous event among Syrian horse breeders, the Latakia race of 1993, which I attended with my father. Arabians from all over the country and neighboring ones flocked to this national event, the first of its kind on such a scale.
This is a photo of the finish line of the eighth and last race, over a distance of 2000 meters. Mokhtar, Basil Jadaan's black desert-bred Kuhaylah al-Krush, (now in France and turning 30 next year) won the race, with minimal training. Khalid, Mustafa al-Jabri's Saqlawi Jadran (Mahrous x Khalidah) came a close second.
The biggest surprise was the third place (not showing in the first picture, but to the right in the second one) of Hakaya, the black desert-bred Shuwaymah Sabbah of the Sheykh of the Bedouin tribe of Tai. She was 15 years old, heavily in foal, ridden bareback, without formal training, by a bulky Tai Bedouin (the others were ridden by professional jockeys), and without a bit… only a Bedouin halter.
Let me write this again to let it sink in: a 15 years old mare, heavily in foal, ridden bareback, without formal training, by a bulky Bedouin, and without a bit coming third in a 2000 meter race.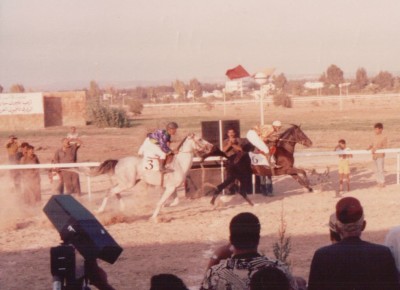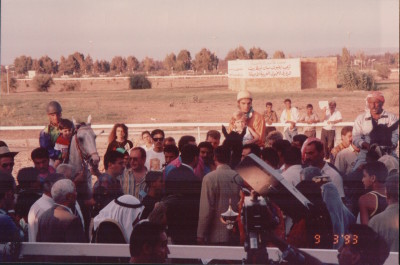 In the second photo, you can barely see Basil holding Mokhtar's bridle in the middle (his head almost entirely hidden by the cameraman's device); the late Mostafa holding Khalid's bridle to the left, and that Tai Bedouin to the right, riding Hakaya … with the white Bedouin bridle (rashmah). I took the two photos from my seat. I still remember this day vividly.