By Edouard Aldahdah
Posted on July 15th, 2009 in France, Lebanon, USA
This is another picture of the beautiful Hearst stallion *Mounwer (b.1942), the subject of a recent entry. The picture is from the website of Ariena Arabians, and is courtesy of Nyla Eshelman.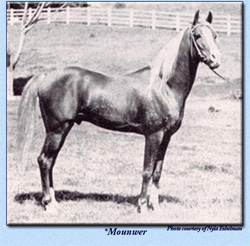 *Mounwer's handwritten pedigree by his Lebanese breeder George Khamis indicates that he was sired by the stallion Kayane, out of the chestnut mare Bint El Berdowny, who seems to have raced at the Beirut racetrack in the 1930s. I have a lot of information on Kayane here.  Bint El Berdowny, "the Daughter of the Berdowny", is a name commonly given to racing mares hailing from the town of Zahlah and its vicinity, in the central part of the fertile Biqaa valley of Lebanon. The Berdowny is the name of the stream on the banks of which Zahlah lies.
According to Khamis, *Mounwer's dam Bint El Berdowny was sired by a black Ma'anaqi Sbayli, and his maternal grand-dam, a chestnut mare by the name of Subayha that may have also raced in Beirut, was sired by a desert-bred, grey Ma'anaqi Sbayli stallion of the French Army, which controled Lebanon and parts of Syria at the time. [The French Army maintained a large military base in Rayak, the village of Khamis, as well barracks and horse stables in Ablah, some 3 miles further to the north. They even buily a military airport in Rayak, which you can still see on the map, above].
*Mounwer, and his dam, grand-dam and entire female line as a result, is a Shuwayman by strain, according to Khamis. So I asked my father, retired Lebanese Army General Salim Al-Dahdah, a longtime Lebanese breeders who used to keep most of his horses in the Biqaa valley, whether Shuwayman was one of the strains that was bred by the landlords of  the Central Biqaa valley (a relatively small area, as you can see from the scale of the map, above). He told me that one well-to-do Zahlah families, perhaps the Braidis (he was not sure of the name, so he promised to check), indeed owned a good, well authenticated marbat of Shuwaymat, and that he owned a grey mare from this marbat at some point in the late 1970s.  It was the only marbat of Shuwayman he knew of in the entire Biqaa valley. Unfortunately, the line of the Shuayman horses of the Biqaa valley is now extinct.
I think there is a good chance that *Mounwer comes from this particular line of horses, although I cannot prove it at this stage. I'd have to call some Biqaa old-time breeders and let you know.