By Edouard Aldahdah
Posted on July 17th, 2015 in General
This young stallion from France is, in my opinion, one of the most representative elements of the original Arabian type. This is one of the types once favored by North Arabia's Bedouins as a sire. Click on the photo to enlarge it.
He is Murad Sbaa, by Shueyman el Badawi and Murad Ouarda Sabah, by Jahir et Murad Hadiya, par Ourki and Hamada, by Irmak (Tunisia);  his sire Shueyman el Badawi by Mokhtar (Syria) and Murad Haouda Sahib, by Cherif et Hamada, by Irmak (Tunisia).
He looks both like his sire and his maternal grandsire, Jahir. He won French USCAR's 5200 meters race — by a long shot — in September 2014.
The real Arabian horse still exists.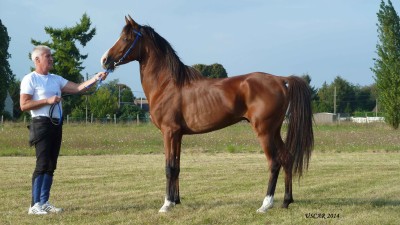 Photo of his maternal grandsire Jahir (a gem of a horse, that should have bred 300 foals) below: