By Edouard Aldahdah
Posted on April 28th, 2009 in General
This mare is one of my all-time favorites. I had featured her earlier on this blog, here. Her name is Reem al-Oud, she is a Ubayyah Suhayliyah (a branch of the Sharrakiyah) from the tribe of Shammar in Syria. She is currently owned by Shaykh Mayzar al-Ajeel al-Abd al-Karim al-Jarba
Shaykh Mayzar is a direct descendant of the famous Shaykh 'Abd al-Karim al-Jarba, who led a bloody rebellion against the Ottoman Turks. The Turks quelled the rebellion, hung 'Abd al-Karim on a bridge in Mossul, Iraq, in 1875, and put his half-brother Farhan in charge of the Shammar in the north, prompting 'Abd al-Karim's mother, Amsheh al-Husayn (a daughter of Husayn al-Assaf, the Shaykh of Tayy) to flee the Jezireh area of Mesopotomia with her younger son, Faris, and seek refuge with Ibn Rashid, the ruler of Hail in Central Araiba, and the leader of the Shammar in the south. Years later, Lady Anne Blunt met both Amsheh and Faris, who become Wilfrid Blunt's blood brother.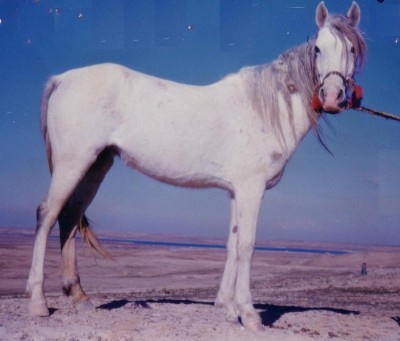 Back to Reem al-Oud. She is from the marbat of Maskawi al-Ju'aydan al-Shammari, whose clan, al-Ju'aydan, breeds some of the best Ubayyan Suhayli horses among the Shammar. Madfaa al-Shazi al-Ju'aydan and 'Atnan al-Shazi al-Ju'aydan have some really good Ubayyan Suhayli horses too.
Reem al-Oud was sired by a Ubayyan Suhayli of Maskawi al-Ju'aydan, whose sire was a Kuhaylan al-Wati of Hakim al-Ghism of Shammar, but owned by Hakem's inlaw Diab al-Sbeih, also of Shammar. Reem al-Oud is out of a Ubayyah Suhayliyyah bred by Maskawi's, and her dam was also by a Ubayyan of Maskawi's (but not the same stallion as Reem's sire). She is a 'Ubayyah Suhayliyah through and through, and the queen of the mares of the northern Shammar.