By Edouard Aldahdah
Posted on January 10th, 2011 in Arabia, Syria, USA
The 1919 grey desert-bred stallion *Mirage (photo below, with owner Roger Selby) is a legend in American Arabian horse breeding. This Saqlawi Jadran stallion was born in the desert, and selected as a mount of the newly installed King of Iraq, Faysal I, before he was sold to a European ambassador and ending up in Lady Wentworth's hands by 1923. You can read more about this in a good article by Michael Bowling, here.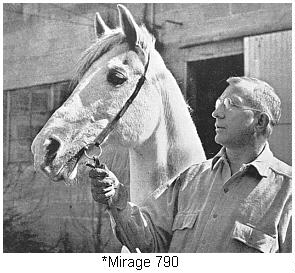 He was her dream grey horse, but the British registration authorities would not let her register him, so he sold him to Roger Selby of Ohio in the USA in 1930. Here *Mirage had a brilliant career at stud, and his is now one of the most successful sire line in the USA (that of Bey Shah, Huckleberry Bey, and Barbary, among others).
*Mirage's strain is recorded as "Seglawi Jedran of Dalia" which is better transliterated as "Saqlawi Jadran of al-Dali' ".
Recently, while looking at some documents pertaining to the Syrian Saqlawi Jadran stallion al-Abjar (photo below, from Raed Yakan, thank you Raed), which was owned the Yakan family of Aleppo, and which I saw at their stud in the early 1990s, I came across his breeder's description of al-Abjar's strain as "Saqlawi Jadran of Ibn Zubayni from the marbat of the al-Dali' family".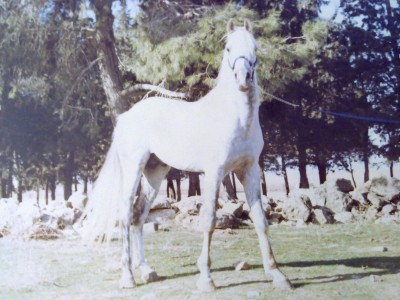 My interest was aroused, so I asked my Aleppo friend Radwan Shabareq about the family of al-Dali', and he confirmed that this was a extremely wealthy family of long-distance traders from Aleppo, who were running as many as ten caravans each year on the trading route from Istanbul Aleppo to Bagdad, through Aleppo. The Dali' family were originally from the 'Anazah tribe, but they were settled and not nomads (much like the Aal Saud, in that sense).
According to Radwan whose inlaws are distantly related to the family of al-Dali', there is written evidence of their having bankrolled the Kingdom of Saudi Arabia at its beginnings. He also told me that until a recent time, al-Dali's heirs also owned the own private rifle of Thomas Darley, yes, the British consul who brought the Darley Arabian (a Ma'naqi Sbayli by the way) to the UK. More later on that fascinating rifle, and its current whereabouts.
Finally, Radwan also added, almost in passing, that the Dali' family owned a famous marbat of Saqlawi Jadran of Ibn Zubayni, and that their horses were race winners in Egypt, as witnessed by the many cups and trophies in the Dali' family house.
What all this means in a nutshell is that the now revised full strain of *Mirage is Saqlawi Jadran of Ibn Zubayni from the marbat of al-Dali'. *Mirage therefore becomes the third stallion of that famed Saqlawi Ibn Zubayni strain to have left a modern tail male line, after Jamil al-Kabir and Zobeyni. There must have been something truly special about these horses.
Note: As in many other instances (see the recent entry on Venus, below), Carl Raswan's information on *Mirage is wrong and confusing, as I will prove in a next post.