By Edouard Aldahdah
Posted on October 16th, 2010 in Arabia, France, Syria
Nimr Shabareq (photo below, by Zaarour al-Barary out of Yamhad by al-A'war) is one of the desert bred stallions that were recently imported to France. He is now standing at stud with Louis Bauduin, who took this picture and gave it to Arnault Decroix, who sent it to me (Merci, Arnault).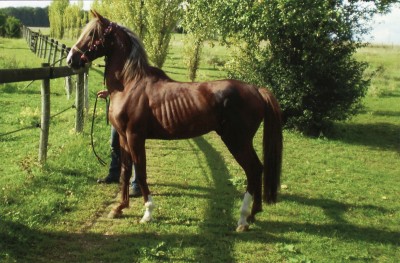 This is not your usual Arabian horse. This is a horse from hell. This is fire made horse. Both Jean-Claude Rajot and Arnault Decroix told me about their first encounter with this horse in 2008, when he was just a weanling at the stud of his breeder Radwan Shabareq: three grooms were needed to handle him as he was being shown to the stunned visitors. This is probably why Radwan called him Nimr — tiger.
He hails from one of the most prestigious desert bloodlines: the Ma'naqi Sbayli marbat of Shawwakh al-Bu-Rasan, Shaykh of the Wuldah tribes of the Euphrates valley.  Shawwakh had obtained the line from his neighbor and friend 'Atiyah Abu Sayfayn, a Fad'aan Bedouin who owns the strain now. 'Atiyah's great-grandfather had stolen the original mare from the Sba'ah (click here to read how), the fountain-spring of the Ma'naqi Sbayli strain.
The clan of al-Bu-Rasan is one of the leading clans of the Wuldah, and was once wealthy and powerful. In the 1960s,the Syrian government built a large dam on the Euphrates valley, and the fertile agricultural lands of the Bu-Rasan and others were flooded under the resulting manmade lake. They were relocated to a remote area in North Eastern Syria; by the time Radwan came to purchase Nimr's great-granddam Hulwah from the sons of Shawwakh in the 1980s, they had become so impoverished that they traded her for a tractor's battery.
I was always fond of this line of Radwan's; indeed in the late 1990s, when Radwan offered us a filly in exchange for our stallion Dahess, I hesitated between two al-A'war daughters: Yamhad who is Nimr's dam, and 'Amshet Shammar (al-A'war x Ghallaieh), a Kuhaylat Krush, whom we ultimately picked.
If you happen to think that this is not how Arabian horses look like, then compare with the 1906 photo of the Crabbet stallion Rodan (by Harb x Rose of Sharon and the sire of Ghazi, Gulnare and Bazrah, and grandsire of Gulastra and Kahar among other foundation horses of Arabian breeding, and think again: