By Edouard Aldahdah
Posted on July 23rd, 2010 in France
The French "Arabian" stallion Flipper, photo below, is representative of 'midnight breedings', a practice which saw some (just some) greedy French breeders of the 1970s and 1980s breed their Arabian mares to English Thoroughbred or Anglo-Arab stallions, and register their offspring as Arabians. On paper, Flipper is by Gosse du Bearn out of Fleur d'Avril. In reality, only God and his breeder know who his sire was.
People who defend horses such as Flipper will tell you that French Arabians were bred with a focus on speed, not on classic Arabian type, over a ten to fifteen generations, which is why they look the way they do.  It's true, and there was no shortage of 'untypey' French Arabians since the 1910s; yet, as far from classical type as they may have been, they were of authentic Arab blood. Flipper belongs to a different league: he has non-Arabian blood in his veins — and more than a trickle.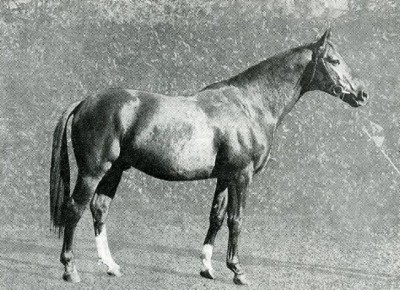 So do his sons Dunixi and Tidjani (photos below), both of whom are major progenitor of French racing lines. The status of Flipper's line as 'purebred' Arabian is safely guaranteed by the presence by a senior staff of the French National Haras on WAHO's Board of Directors.