By Edouard Aldahdah
Posted on January 5th, 2011 in General
Yesterday, Lisa from the UK asked about the meaning of the word "Kuhaylan" and its feminine "Kuhaylah", as applied to Arabian horses; I won't tell you anything that most of you don't know already, I only want to give a sense of its etymology.
If you want to understand the meaning of a concept in Arabic, you need to keep a couple things in mind: first, that the Arabic language was developed and enriched by poets — famously, at such venues as the Arabian market of Okaz, which by the way has recently been revived; indeed, the oldest evidence of Arabic language ever comes from an inscription found in 1979 at Ein Avdat in the Negev desert. The inscription dates from the 1st century of our era (0-100 AD) and consists of six lines, two of which are in Arabic, and they are in verse.  So, in a nutshell, not only is poetry a central feature of  Arab culture in general, and Bedouin culture in particular, but it is also central to its genesis, too.
Second, Bedouins are born poets, and like most poets and people who enjoy poetry, they make heavy use of metaphors to express themselves. Here's Wikipedia (sorry) on the meaning of the word 'metaphor':
Metaphor is the concept of understanding one thing in terms of another. A metaphor is a figure of speech that constructs an analogy between two things or ideas; the analogy is conveyed by the use of a metaphorical word in place of some other word. For example: "Her eyes were glistening jewels".
The concept of 'Kuhaylah' as applied to Arabian horses is a metaphor, and the eye example used above to illustrate the meaning of the word 'metaphor' is ominous.
Linguistically, the feminine word Kuhaylah, and its masculine form Kuhaylan are diminutives. Kuhaylah means 'little Kahlah', Kuhaylan means 'little Kahlan' and 'little' is used in an endearing way here. Now what does 'Kahlah' and its masculine form 'Kahlan' mean?
'Kahlah' means 'she who has kohl around her eyes', and Kahlan, 'he who has kohl around his eyes'. Kohl is an ancient cosmetic eyeliner made of grinded antimony sulphide and traditionally used in the Middle East, in North and East Africa and in South Asia, which women used, but also men, including Muhammad the Prophet of Islam.
Since kohl makes eyes beautiful, and beautiful eyes are a desirable feature, the word 'Kahlah' and its diminutive 'Kuhaylah' is also used a first name for girls. The Arabic name' website I just linked lists 'Kuhaylah' as a suggestion for naming newborn girls, and explains the meaning of the word Kuhaylah as "a diminutive of Kahlah, she who puts kohl around her eyes". You can paste the Arabic words in Google Translate and check the translation for yourself, in your own language. The website also adds an additional meaning for 'Kuhaylah' as a girl name: "she who has beautiful eyes [naturally] with black around them, as if it was kohl". This brings us back to the metaphor in Arabian horses.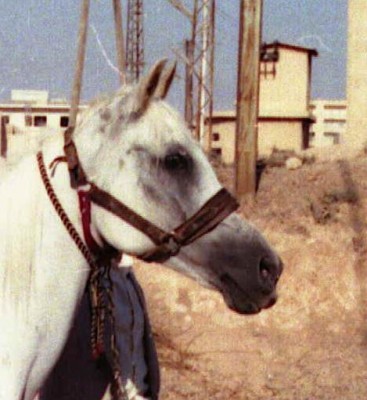 While 'Kahlah' normally refers to women who put kohl around their eyes, it can be extended by way of a metaphor to refer to women, or any other beautiful feminine creature, mare, gazelle, etc, whose eyes are naturally lined with black, as if it was kohl.
So when Bedouins refer to a mare as "Kuhaylah", or "little Kahlah", they are expressing themselves in a metaphor; they are constructing an analogy between the woman, whose eyes are beautifully lined with the kohl cosmetic, and the Arabian mare, whose beautiful black skin around the eyes is reminiscent of the kohl. The analogy is conveyed by the use of the metaphorical word 'kohl' in place of the word 'black skin'. They want to say: "the black skin around the mare's eyes is kohl", hence the mare is "Kuhaylah". In the same way, the stallion is "Kuhaylan".
That's it.