By Edouard Aldahdah
Posted on January 21st, 2017 in General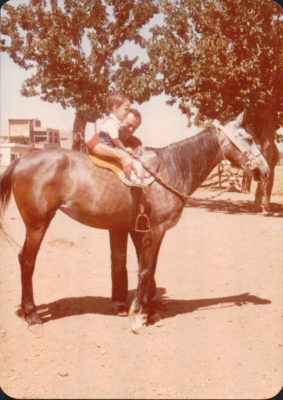 This was taken in 1980 or 1981, near the town of Rayak, in the Biqa' valley of Lebanon.
Rayak, more specifically the village of Hawsh Haala, outside Rayak, was where we put our horses. We had a partnership with the Hindi family over the horses, since the time of my grandfather, Edward Al-Dahdah, in the late 1920s.
The young man holding me is Shafiq Hindi, a longtime family friend, who had taken over the partnership after the passing of his uncle Subhi Hindi. The mare, the mare, was my father's all-time favorite, Zanoubia (III). A mare of great style, refinement and beauty in her heyday, gazelle-like, from an noble, prestigious and storied origin, and a notoriously difficult producer.
She was born in 1976, by Ash-hal, a Kbayshan, out of Bint Wazzal, by Wazzal, a Ubayyan, out of Su'ad, by al-Jazzar, a Kuhaylan Nawwaq, out of Umm Mash'al, by Ghazwane, a Kuhaylan al-Kharas out of a 'Ubayyah, by a Saqlawi al-Aama (the blind), out a 'Ubayyah by a Kuhaylan Nawwaq out of a 'Ubayyah Sharrakiyah of the Sarraf family of Ba'albek in the Biqa' valley, who had obtained the strain from Ibn Thamdan of the Sba'ah 'Anazah.
Another photo of the same mare, ten year after the first photo (ground not level), with another of our mares in the background, a Kuhaylah Nawwaqiyah.