By Edouard Aldahdah
Posted on March 17th, 2010 in Syria
I just received this beautiful headshot of the bay stallion Al-Bark (Beebars x Etidal by Burhan x Obeirah) from Joe Achcar in Syria.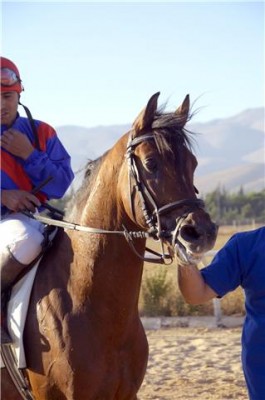 This stallion is a Shuwayman Sabbah by strain, but from a different marbat that that of the Jarbah leaders of the Shammar Bedouin tribe.  The marbat of Shuwayman Sabbah to which Al-Bark traces is known as "Shuwaymat al-Rahbi" from the name of their breeder Mohammad al-Rahbi, who also happens to be from Shammar. The Shuwayman horses of Mohammad al-Rahbi trace their origin to the leader of the large Bu-Mutaywit Bedouin tribe of Northern Iraq, which has bred them for several generations. They are a well respected marbat, according to Shammar elders, such as 'Abd al-'Iyadah al-Da'ran Ibn Ghurab, who used to breed from one of their stallions.
They were also known as good racehorses.. Al Barq in particular traces to a really good old stallion who was active in the area of settlement of many Shammar tribes in the early nineteen eighties: the dark bay Ma'anaghi Hadraji of Dahir al-'Ufaytan, perhaps of the best desert-bred stallions of the late twentieth centuries, in my opinion.