By Edouard Aldahdah
Posted on June 15th, 2010 in Arabia, Saudi, USA
Yesterday, I posted the photo of the beautful Bint Turfara (Sirecho x Turfara by Fadl). Below is the photo of another foundation mare of the BLUE STAR program, her 1961 half sister Bint Muhaira (Sirecho x *Muhaira by Old Hamdani), a 'Ubayyah. She was bred by the Searle Stud.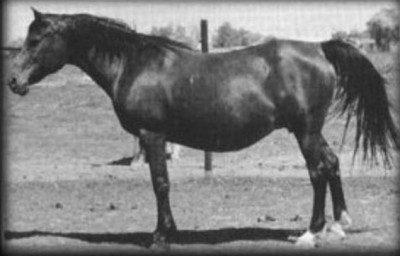 Her dam *Muhaira (Old Hamdani x *Mahraa) was bred in Saudi Arabia, by an expat lady, Esther Ames, from two horses from the stud of Prince Sa'ud ibn 'Abd Allah Ibn Jalawi, Governor of the oil rich province of al-Hasa in Saudi Arabia. *Muhaira and her dam *Mahraa were imported to the USA by Mrs. Ames. *Muhaira's sire, the Old Hamdani (born around 1938), was presented by Ibn Jalawi to Mr. Thomas C. Barger, then CEO of the Arabian American Oil Company (ARAMCO, the state-owned national oil company of Saudi Arabia, renamed Saudi Aramco in 1988). Old Hamdani was apparently also imported to the USA, but he was never registered in this country. He was featured on this blog early on, here.
As an aside: The stud of Prince Saud Ibn Jalawi (alternative spelling: Jiluwi) was really part of the group of studs of the House of Saud, not only because of the frequent exchanges of horses, but especially because the Ibn Jalawi clan is a really a branch of the larger House of Saud. The original Jalawi ibn Turki was none else than the brother of Faysal ibn Turki al-Imam, who is the grandfather of King Abdul Aziz ibn Saud, the founder of the modern Saudi dynasty. Ibn Jalawi's stud was famous for two strains 'Ubayyan and Hamdani.  While no 'substrain' is acribed the Ibn Jalawi horses of these two strains that were imported to the USA, it is highly likely that these were 'Ubayyan Sharrak and Hamdani Simri.