By Edouard Aldahdah
Posted on September 5th, 2008 in Egypt, General, Saudi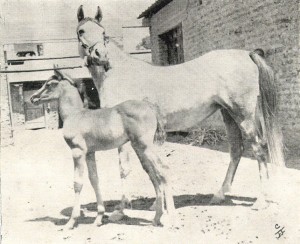 The gorgeous Bint Nafaa was born in Egypt in 1962, and bred by Ahmed Hamza's Hamdan Stables, yet she does not have the "Straight Egyptian" label.
The Pyramid Society, who coined the "definition" of a Straight Egyptian and Egyptian breds, does not accept El Gadaa, Nafaa's sire, as a Straight Egpytian.
El Gadaa was a racehorse, who stood at Hamdan stables for a while and was bred by Miqhim ibn Mahayd, the Shaykh of the Bedouin Fad'aan tribe. Egyptian records have him as being by El Sabaa, also a racehorse, out of a Ma'naghiyah of Ibn Mhayd. 
Fine. But many questions remain unanswered. Did Miqhim race Arabian horses in Egypt? or did he sell the horse to a racehorse owner? did he own El Gadaa's sire El Sabaa? where was El Gadaa bred, in Egypt, or in the desert?  
I know Miqhim ibn Mahayd left Syria sometimes in the 1950s (will get back to you with the exact date) after a series of problems with the Syrian regime, and moved to Saudi Arabia, where he received royal treatment from the King – himself a fellow Anazeh tribesman, who incidentally bred Bint Nafaa's dam Nafaa, a desertbred Kuhaylah (so marbat) by a 'Ubayyan al-Suyayfi – a strain that branched off 'Ubayyan al-Hunaydees. I know Miqhim kept a small herd of horses in Syria with the care of an agent. 
One definitely needs to learn more about El Gadaa.. Meanwhile, check out this breeding program, which seeks to preserve the descendants of Nafaa through her other daughter Nadia and her granddaughter Serenity *Bint Nadia (by Sameh x Nadia by Ezzat).