By Edouard Aldahdah
Posted on January 27th, 2010 in Arabia, Syria
 This very old mare is a Kuhaylah Trayfiyyah from the Middle Euphrates valley in Syria, near the small town of al-Mayadin.
This area general is home to the tribe of al-Aqaydat (Ageydat), a wealthy and powerful semi-nomadic tribe of cultivators and small herders whose Shaykhs obtained a number of really good desert-bred mares in the first part of the twentieth century, sometimes through ghazu (raids) and sometimes through purchase and gifts. They bred these mares well, and protected them by using only asil stallions, and hence came to own reputalbe marabet. Today some of the prettiest and typiest Syrian horses came from these Ageyday marabet.
One of the most well known Aqaydat marabet is that of Kuhaylat al-Trayfiyyah, which is an old strain the history of which I don't know well. All I know is that it might – just might – derive its name from Matarifah clan of the 'Anazah tribe. The strain is mentioned in the Abbas Pasha Manuscript, in connection with events that took place in Eastern Arabia, either in Bahrain, Qatar or the al-Ihsaa region of Saudi Arabia.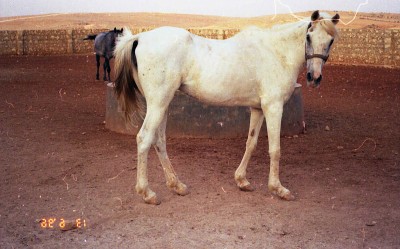 The Kuhaylah Trayfiyyah is the photo was not registered in the WAHO Syrian Studbook and I don't know the reason. Perhaps some of her papers or authentication documents were missing or incomplete, perhaps she did not meet the Registration Committee's criteria, and perhaps her owners did not want to register her, which was not uncommon at the time.
I recall being struck by her high withers, her deep girth, her sloped shoulder, her short-back, her level croup, her beautiful pricked ears, and her overall graceful and gentle appearance, despite her old age, and poor condition. Photo taken at Radwan Shabariq's farm near Aleppo, in 1996, where this mare was being brought to be bred by his Hamdani ibn Ghurab stallion al-Aawar.