By Edouard Aldahdah
Posted on October 31st, 2010 in Syria
This desert-bred mare is a representative of the rare and precious strain of Rishan Shar'abi, a branch of the Kuhaylan family. She traces to a most ancient and authenticated marbat of the Rishan strain, that of Ibn Hathmi of the 'Abdah section of the Shammar Bedouin tribe. Her breeder Ayid al-Fnaish obtained the line from Ibn Hathmi a few decades ago, and some horses were owned jointly. Mustafa al-Jabri is her current owner and I took this photo at his stud in 1995.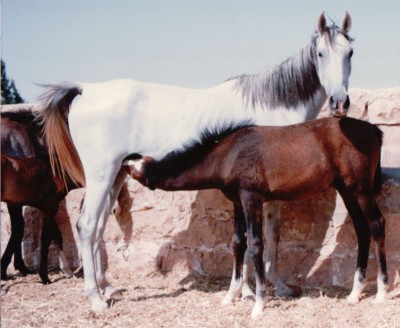 She was registered in Volume 1 of the Syrian Studbook under the generic strain of Kuhaylat al-'Ajuz, reportedly because one of the members of the local registration committee was unaware of the existence of the Rishan strain. This oversight was fixed in the next Studbook iterations.
She was born in 1986, and I believe her registration name is Bint al-Balad. Her sire is al-A'war, the chestnut Hamdani (Simri) Ibn Ghurab stallion which the Shammar Bedouins were heavily using at the time, before he ended up with Radwan Shabareq of Aleppo in the 1990s. Her dam's sire is the Saqlawi (Jadrani) Ibn 'Amud of Muhammad al-Faris al-'Ad al-Rahman of the 'Assaf, the leading clan of the Tai Bedouins.
Thanks to the tireless efforts of Basil Jadaan with WAHO, Volume 7 of the Syrian Studbook saw the registration and eventual recognition by WAHO of the some of the desert-bred horses who were missed in Volume 1. Among these were Bint al-Balad's full sister who was registered under the name Al-Reeshah, and her dam under the name Al-Shaykhah, as well as another mare from the same marbat.