By Edouard Aldahdah
Posted on September 19th, 2011 in General
I also saw many nice horses at the Al Khamsa Convention. One of my favorites was the 24 year old mare Ebonys Doyle LHF (Ebony Nefous RSI x Larkin DE by Greggan), bred by Vincent Melzac, from two of his favorite horses, and now owned by Lesley Detweiler.
She traces twice to the grand Rabanna (Rasik x Banna by Nasr), and her dam is a Doyle mare of 100% old Crabbet breeding. In my opinion, and regardless of the petty politics of what is "Straight Egyptian" and what isn't, the more Rabanna blood in a horse, the better the horse.
Also, Carl Raswan and Richard Pritzlaff did not save Rabanna in the 1950s, so that we waste her blood away in 2010. We cannot pay continuous lip service to their legacy, and do nothing about it in practice.
Not sure how many horses with Rabanna blood remain today (someone needs to do a headcount), but something really needs to do something about that.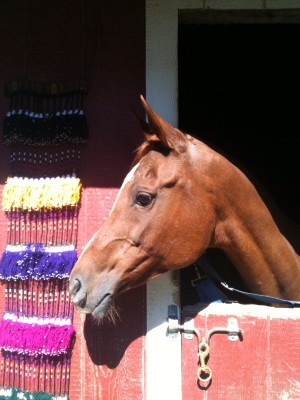 And by the way, I don't believe that the head of an Arabian horse needs to be more "extreme" than that. Anything beyond that becomes distortion.