By Edouard Aldahdah
Posted on August 14th, 2009 in Arabia, France, Syria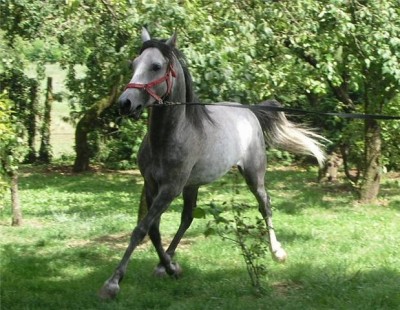 Before I move to discussing the two stallions just imported from Syria to France, and following the posting of Shahm's photos a couple days ago, I want to share with you a couple pictures of the second stallion, Mahboob Halab, a 4 year old Shuwayman Sabbah from the marbat of the Jarbah leading family of the Shammar tribe.
Both photos are courtesy of Jean-Claude Rajot, who owns Mahboob. The above one was just taken in France, and the one below in Syria, about 6 months ago, before the horse's importation.
Desert bred horses heavy on the blood of al-Aawar, the Hamdani ibn Ghurab stallion, are very slow to mature, according to Radwan Shabareq, al-Aawar's last owner. They typically reach full maturity at 8 years old.