By Edouard Aldahdah
Posted on December 4th, 2009 in Arabia, Syria
I took this photo of the venerable Malakah in 1990, at the stables of Syrian breeder Salih Khaddam al-Sruji, south of Damascus.  She was more than 30 years of age, which explain why her croup and legs look the way they do.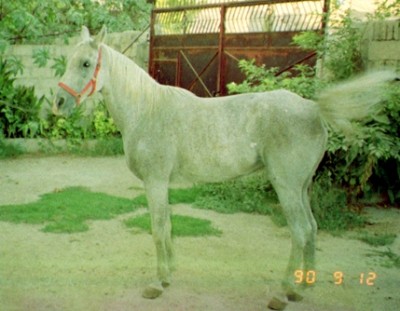 Malakah was bred by the Mudarris family, an old Alepine  – ie, from Aleppo, Syria – family of great social standing and influence. The Mudarris family owned one of the most famous city marabet of Saqlawi Jadran ibn Zubayni, which the 'Anazah Bedouins from the area around Aleppo recognized as 'mazbut' (well-ascertained, well-authenticated). I have Malakah's hujjaj somewhere and will need to dig it up for you to read.
There is a very thin tail female line to Malakah left in Syria today. That said, Malakah's blood is mainly present in Syria through her son al-Abjar, who was standing at the Yakan studfarm in al-Bab, north of Aleppo.
Many people in Syria thought that Malaka's was the only line of Saqlawi Jadran ibn Zubayni left in Syria, and this is certainly how the Syrian Studbook presents it.  Fortunately, there is at least one other equally mazbut line of Saqlawi ibn Zubayni left there. That's the line of Mabrouka, a Saqlawiyah Jadraniyah from the marbat of the Al-Khani family in Hama, in Central Syria. Mabrouka and her offspring do not appear as Saqlawi ibn Zubayni in the Syrian studbook, which sometimes falls short of reporting the full information on a particular horse. Mabrouka's hujjah certainly shows her a Saqlawiyah Jadraniyah of Ibn Zubayni.
There was also a line of Saqlawi Ibn Zubayni at the Dandashi landlords of Tall Kalakh in Western Syria. Nayif Agha al-Dandashi owned that line, which traced to the mare Umm al-Tubul (the 'mother of drums', hence named because her coming to Tall Kalakh from the neighboring desert was considered such an important event that it was celebrated by a parade during which drums were beaten).  Unfortunaly, Umm al-Tubul's line died out in asil form, unlike Malakah's and Mabrouka's, which still survive. More on all three lines later, from a strain viewpoint.