By Edouard Aldahdah
Posted on January 7th, 2010 in Lebanon, Syria
My father took these two photos of the grey Lebanese stallion Malek in the mid 1980s, at the farm of Husayn Nasir in Rayak, Lebanon.
Malek (Achchal x Bint Ghazwane by Ghazwane) was the last stallion of Lebanese breeding that did not trace to the infamous Iraqi-born part-bred Arabian racehorses thath flooded the Beirut racetrack in the 1950s and 1960s, and ultimately led to the demise of the Lebanese Arabian horse breeding, after they were crossed with Lebanese (and some Syrian) asil Arabian mares.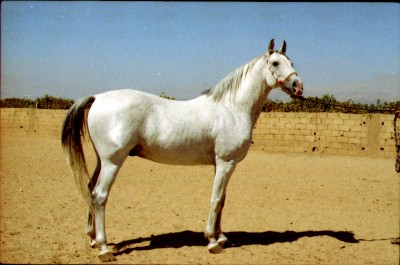 Malek was used mostly on non-asil part-bred arab mares tracing to these Iraqi stallions, and bred only one asil mare: a bay 28 year old Tuwaysah mare from Syria, which we owned and which traced to the horses of the 'Anazah tribe. That old mare settled, and her daughter was my favorite mare while I was growing up. I recall hearing that Malek ended his life pulling a cart in the northern Lebanon city of Tripoli.
His strain was Saqlawi Jadran from the horses of the Dandashi landlords of Tall Kalakh, in Western Syria. This wealthy and powerful clan of chieftains of Kurdish origins, who had the title of agha were the premier asil Arabian settled (i.e., non-Bedouin) horse breeders of Syria. Together they literally owned dozens of asil marabet from the choicest bloodlines, which they brought for large amounts of money from the neighboring Bedouin tribes, mostly from the Sba'ah and some from the Fad'aan.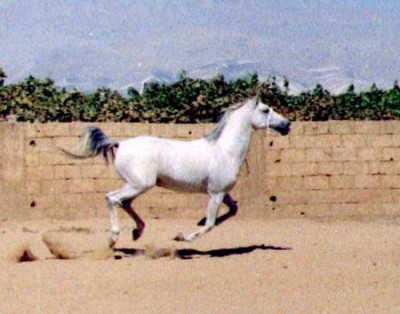 The most famous marabet of the Dandahshis were those of 'Abdallah Agha al-'Umar al-Dandashi, who owned an extremely precious and highly regarded marbat of Jilfan Sattam al-Bulad; Dabbah Agha al-Dandashi who owned a marbat of Kuhaylan al-Nawwaq, 'Abd al-Karim al-'Uthman al-Dandashi who owned a rare marbat of 'Ubayyan Sharrak, and Nayif Agha al-Dandashi who owned a marbat of Saqlawi Jadran of Ibn Zubayni. I am almost certain that  the stallion Malek pictured here traces to the latter marbat, but I am not 100% sure, because there were other marabet of Saqlawi Jadran with the Dandashis, including that of the stallion who sired the mare *Muha (imported to the USA in the 1920s by Amin Rihani). I will need to check that and get back to you.
The Dandashi also owned, among other strains, a marbat of the ancient strain of Hazqan Misrabi., which was featured in odes by a number of poets. The strain of Hazqan is now long gone.