By Edouard Aldahdah
Posted on December 23rd, 2008 in France, Lebanon, Tunisia
The magnificent grey stallion pictured below was bred was Robert Mauvy in 1969 near Tours, in France. Mauvy also bred his sire Amri (Saadi x Zarifa) and Amri's dam Zarifa (Matuvu x Iaqouta). He sold Amri to Idaho in the USA as a three year old, but not before he used him on a couple of his best mares (I actually sometimes wonder if Amri left anything out there). Moulouki's dam Izarra, a beautiful grey mare, was a gift to Mauvy from Admiral A. Cordonnier, who certainly maintained the best private Arabian stud in North Africa, near Bizerte in Tunisia. 
Izarra (by David x Arabelle by Beyrouth) was bred by Cordonnier and so was her dam Arabelle. Their tail female was to Samaria, a grey Kuhaylat al-'Ajuz  mare born in 1882 imported to Pompadour by Mr. de Ganay in 1887. Ganay bought Samaria for 8,000 Francs (an enormous amount!) from Khalid Bey al-As'ad of Taybeh, a village now located in Southern Lebanon. The al-A'sad were until the 1970s the overlords of South Lebanon and the most powerful family among this area's Shi'a population. The older al-A'sad lords were known to maintain a small stud of Arabians that they'd usually acquire from Bedouin 'Anazah clans who had they summer pastures in the nearby Golan Heights. Samaria did not stay at Pompadour for a long time, for she was sold to the stud of Sidi Thabet in French-controlled Tunisia, where she founded one of the most successful North African damlines.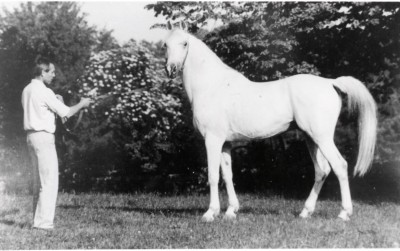 Moulouki does carry one line to the stallion Denouste through his great-grandsire Ourour. To be frank, I have always been wary of Denouste for three main reasons: 1) type: he certainly looks like a poor representative of an Arabian horse; 2) progeny: his many (too many) sons, grandsons and greatgrandsons are even further away from classic Arabian type than he was; and 3) a flaw in the pedigree of his great-grandsire Burkeguy, which will be the subject of a discussion that's now long overdue.  
I recently asked Jean-Claude Rajot about Mauvy's opinion of Denouste. I have the utmost trust for Mauvy's knowledge and judgment, for he was uncompromising in his quest for purity of blood, and paid a heavy price for his stand. I thought to myself: "If Mauvy bought and used the young stallion Saadi (by Ourour x Oureah by Ghalbane, picture below) on all his mares, then it must be because Saadi (and hence Ourour and Denouste) met his standards of purity." Other breeders would not get away with far less than that, as this is not the type of argument upon which any  student of bloodlines one ought to rely in assessing the authenticity of an Arabian horse's origin [even though it is widely used in the context of Egyptian bloodlines and the horses of Ali Pasha Sherif, for instance]. But there was still that lingering uneasiness about Denouste.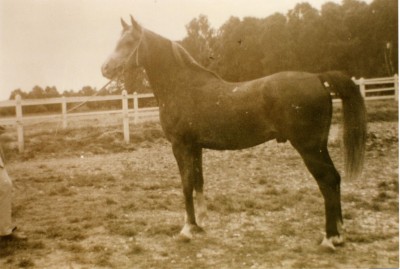 Jean-Claude's answer was somewhat reassuring: Mauvy did not think there was anything wrong with the horse himself ("he thought the horse was okay" said Jean-Claude), even though he didn't think consider him to be a true representative of Arabian type (Mauvy, sarcastically: "definitely not a horse before which you'd kneel down in admiration");  that said, Mauvy apparently reported that Denouste's racing success heralded the beginning of the "fraud era", with every other horse being presented as a Denouste son. However, Mauvy wrote enthusiastically about Ourour (picture below), describing him as the prototype of an Arabian stallion, despite his relatively excessive height (155 cm or 15.1 hands).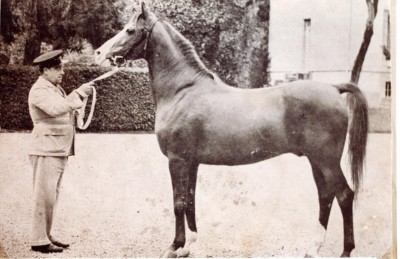 Issue resolved, then? Maybe. I will ask Jean-Claude to write about all this, and then we still need to discuss Denouste's pedigree.
PS: Moulouki was owned by Pierre-Henri Beillard, who gave me this picture of him, as well as the two others. Beillard, who appears in the photo, also used a son of Moulouki's Doum (x Shawania by Amri), also bred by Mauvy. Moulouki's 3 generation pedigree is here: 
                                   Saadi [Ourour (Tunisia) x Oureah (Tiaret)] 
                        Amri [Mauvy]
                                   Zarifa [Matuvu (Pompadour) x Iaqouta (Tiaret)] 
Moulouki [Mauvy]
                                  David [Hazil (Cordonnier) x Salome (Cordonnier)]
                      Izarra [Cordonnier] 
                                 Arabelle (Beyrouth (Tiaret) x Ambria (Cordonnier)]