By Edouard Aldahdah
Posted on November 2nd, 2008 in Arabia, France
Musette (b. 1932), a Saqlawiyah by strain, is a good specimen of the Asil Arabians bred by the French government stud of Pompadour in the first half of the twentieth century. She reminds me of some of the first and second generation offspring of the horses imported by Homer Davenport to the USA in 1906. 
She was by the desert import El Sbaa (strain: Ju'aitni) out of Musotte, who was by the famous Dahman (strain: Rabdan, sire: a Dahman) out of Mysterieuse. Mysterieuse was by yet another desert bred stallion, Enwer – a Ma'naghi, bred by the Shammar Bedouin tribe like Dahman, and like him imported to France in 1909 – out of Mysie. Mysie was by the desert-bred Beni Kaled, a chestnut Hamdani, out of the imported desert-bred mare Meleke. Meleke was imported to Pompadour in 1891, a Saqlawiyah by a Ma'naghi, himself by a Hamdani Simri (or by a Hamdani Simri by a Ma'naghi, the French importation records are ambiguous).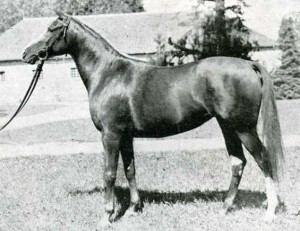 This precious line has unfortunately completely died out by the 1940s, and only survives in the middle of the pedigrees, through the Asil stallions Matuvu, and Minos. Matuvu (by El Sbaa out of Manon, by Dahman out of Mysterieuse), stood at the governemnt stud of Blois, and is present in the pedigrees of horses bred by Robert Mauvy. Minos (by Dahman out of Melisse) was sent to the King of Morocco, and left lines there. Murols, an own son of Musette, was also sent to Morocco and also left lines in modern pedigrees, but I am not counting him there, because Mauvy believed his sire Abel was not Asil.