By Edouard Aldahdah
Posted on September 26th, 2009 in Arabia, Egypt, Saudi, USA
This is Nauwas, a chestnut mare born in 1967. Her sire is the Hamdani stallion Al-Khobar (Ibn Fadl x *Al Hamdaniah), and her dam is the desert-bred mare *Muhaira, a 'Ubayyah from the horses of Prince Saud ibn 'Abdallah ibn Jalawi Aal Saud.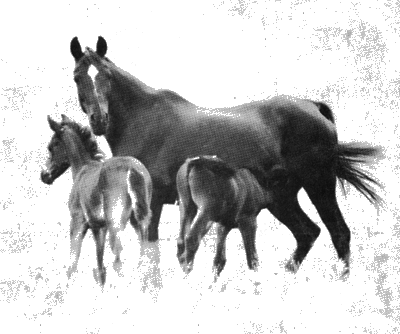 Her pedigree is interesting because the sire line is Egyptian, and all the mares are desert-bred imports to the USA from Central and Eastern Arabia. Fadl sired the stallion Ibn Fadl, out of the desert-bred mare *Turfa; Ibn Fadl in turned sired Al-Khobar (photo below), out of the desert-bred mare *Al-Hamdaniah (the "bloody shouldered mare", who was featured in one of the first entries of this blog); the beautiful Al Khobar sired Nauwas, out of the desert-bred *Muhaira. You can't get better bloodlines than these, so noble, and so close to the source.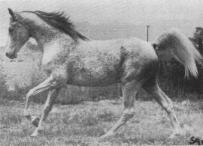 I love this photo of Nauwas. It blends two of the characteristics of the true Arabian mare: the sweet, soft look of a new mother; and the strength of a war mare. This is a mare I wish I had seen, and owned.
PS: I just noticed, after publishing this post that Nauwas bears some resemblance in her body structure, her ears, and the shape of her head with the mare Qhejala, featured just below. Nice coincidence.