By Edouard Aldahdah
Posted on November 8th, 2008 in Arabia, France
One more French desert-bred import. This one is Nibeh. All I know about him is that he was bred by the Fad'aan Bedouin tribe and imported to France in 1912, where he stood at the government stud of Tarbes (one of the three main Arabian stallions depots in France, with Pau and Pompadour). If anyone knows anything else about him, please let me know.
I am trying to compile a list as comprehensive as possible of the desert-bred Arabians imported to France that still have descendents alive today (Asil or not). Not sure all would qualify as Asil (the criteria being the existence of good original documentation), but many probably would. Notice the nice, prickled ears this one has.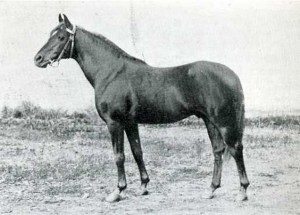 Nibeh was the sire of Nedjari, exported from France to the Breniow stud in Poland.