By Edouard Aldahdah
Posted on July 27th, 2010 in Syria, USA
The 1988 grey Hamdani al-'Ifri stallion *Ta'an (Awaad x al-Efrieh by a Kuhaylan al-Wati) was born in the Jazirah area of North-Eastern Syria. His breeder, Mis'ir al-Hamad is a member of one of the small Arab nomadic tribes that settled in this area in the XXth century.
I first saw *Ta'an in 1990 as a yearling, at Mustafa al-Jabri's stud outside of Aleppo. I took pictures which I will scan and share with you. I then saw him again in 1991 and 1992. In 1993, Mustafa gifted *Ta'an to Gerald and Debra Dirks who took him to the USA, then to Jordan in 1996. At that time, the Arab Horse Association studbook did not recognize the Syrian Studbook, so *Ta'an never got registered, even though Al Khamsa, Inc accepted him on the basis of his being a Bedouin-bred horse from Syria. The two pictures below were taken at the Dirks' farm, and are courtesy of Marie Arthur.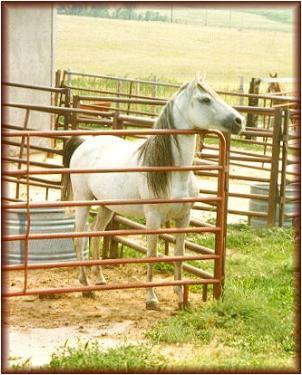 *Ta'an's sire was Awaad, a grey Kuhaylan al-Krush bred by 'Iyadah Talab al-Khalaf, of the Shammar Bedouins, from the prestigious Krush al-Baida marbat of Mayzar al-Abd al-Muhsin al-Jarba of the Shammar. Awaad sired many good mares and stallions in Syria, among them the closely-bred black Kuhaylan al-Krush stallion Mokhtar, who was exported to France and who was Ta'an's paternal half brother.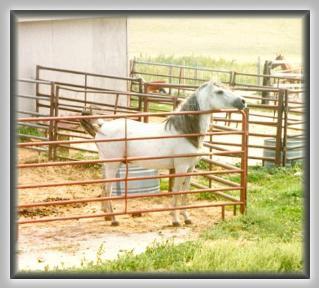 *Ta'an's dam Efrieh, which Mustafa al-Jabri acquied from her breeder with her son at her side, was also bred by the Tai Bedouins, but traced back to the 'Amarat Bedouin tribe (part of the 'Anazah), whose al-'Ifri clan, owned the marbat called after them. Hamdani al-'Ifri was originally Hamdani Simri of the marbat of al-'Ifri, and was widely acknowledged to be one of the most authenticaed (mazbut) marabet of all the 'Anazah.  *Ta'an's dam Efrieh was sired by the Kuhaylan al-Wati stallion of Diab al-Sbeih of the Shammar, a dark grey desert-bred stallion born in the mid to late 1970s, and by the al-Ghishm clan of the Shammar. This Kuhaylan al-Wati stallion was also the sire of Mustafa's head stallion Mahrous (Kuhaylan al-Wati x 'Adlah by the Saqlawi Marzaqani known as Abu Ketf). Mahrous and *Ta'an shared the same straight profile and large protruding black eyes, and both features most likely came from that Kuhaylan al-Wati stallion.
*Ta'an left some progeny in Syria, many of which were exported to the Gulf countries. He only left one colt in the USA, DDA Baraq (out of the Hadbat Inzihi mare DDA Latifah by Grand Pass), and this colt's whereabouts are unknown, although Randall Harris might have some leads. Not sure whether *Ta'an himself is still alive today.
[July 31 upate: the additional photo of *Ta'an below was taken by Joe Achcar in 1992. Thanks Joe for sending it]