By Edouard Aldahdah
Posted on January 29th, 2011 in Saudi, Syria
This is a unique photo, and a precious witness to an era now long gone. It shows the stables of King Abd al-'Aziz Aal Saud in the 1960s, at a time when hundreds, if not thousands, of desert-bred horses were being gathered by will or by force, from the Bedouin tribes of Saudi Arabia and beyond (mainly Syria), in the hands of the Saud family. The photo was taken by the late Laura Cavedo, who was being given a tour of the royal studs, and is from the collection of the late William Sheets (Billy). I have fifteen others.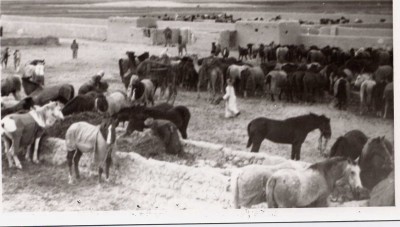 There are surviving first-hand accounts of how Farhan al-'Ulayyan, one of the most trusted slaves of Miqhim ibn Mhayd, who was the leader of the Fad'aan Bedouins during much of the first half of the XXth century, organized the collecting and the shipping of hundreds of  'Anazah's desert-bred horses from Syria to Saudi Arabia, in batches of ten, during the 1960s and 1970s and well up to the 1980s. Farhan would buy all the horses he could find, coaxing the impoverished 'Anazah (but also Shammar) Bedouins out of their horses, and send them to the stables of the Saud family. He would use intimidation when owners did not part with their mares.
The stud of Dr. Iskandar Qassis in Aleppo, in Aleppo, became known as a last refuge for 'Anazah Bedouins who did not want to see their horses gone to Farhan, and who would lease their mares or sell them in shares to Qassis. In the early 1980s, the late Qatari consul in Damascus Yusuf al-Rumaihi, who was a true passionate and connoisseur of the real desert-bred Arabian horse, caught the tail end of the exodus of the Syrian desert-bred horses to Saudi Arabia, and was able to persuade Farhan to part with two or three older mares.