By Edouard Aldahdah
Posted on November 4th, 2008 in Lebanon, Syria, USA
The dark chestnut stallion Shaykh al-'Arab is one of the foundation stallions of the (now defunct) Lebanese Asil Arabian horse breeding. Born in the desert somewhere between Hims and Palmyra, he was bred by Rakan ibn Mirshid, Shaykh of the Gomussah section of the Sba'ah Bedouin tribe in the 1930s, then sold to Beirut for racing. 
His sire was a desert-bred Ma'naghi Sbayli, the stallion of 'Awdah al-Mis'ir of Sba'ah, and his dam a 'Ubayyat al-Usayli', one of the best marabit (pl. of marbat, i.e., desert stud) of 'Ubayyan Sharrak among the Sba'ah tribe. [Other equally good marabit of 'Ubayyan Sharrak with the Sba'ah tribe ainclude 'Ubayyan ibn Duwayhiss, 'Ubayyan al-'Awbali, 'Ubayyan ibn Thamdan, and 'Ubayyan ibn 'Alyan, the latter being the strain of the Blunt import Queen of Sheba, then owned by Beteyen Ibn Mirshid, Rakan's ancestor.]  
In Beirut, the horse was successfully raced by Henri Pharaon under the name of Shaykh al-'Arab (a reference to his prestigious breeder), and then given to the Lebanese Ministry of Agriculture as a breeding stallion.  Shaykh al-'Arab's sons and daughters became good race horses, so much so that veteran Syrian racehorse owner Ali al-Barazi recalled attending race in Beirut where the top four horses were all his daughters.  
At one time in the nineteen seventies, most (if not all) of the Asil horses of Lebanon and many Asil horses in Syria traced to Shaykh al-'Arab in one way or another. One of his sons was even imported to the USA, where a thin line of Asil horses still traces to him (curious, eh?). Another son, Mash'al, also a 'Ubayyan Sharrak (but tracing to the marbat of Ibn Thamdan) became the cornerstone of the Lebanese Asil breeding in the period immediately preceding the 15 year civil war (1975-1990). A daughter of Shaykh al-'Arab, Zanubia, was the great-grand dam of my own Zanubia (III). 
Today, nothing Asil remains of the precious blood of Shaykh al-'Arab in Lebanon. We sod his last living descendent, a Tuwayssah mare (by Malek, by Achhal, by Mash'al, by Shaykh al-'Arab), to Syria, in 1995. Syria actually still has a few horses tracing to Shaykh al-'Arab through his grandson Mun'im, but I don't know if they are being bred from.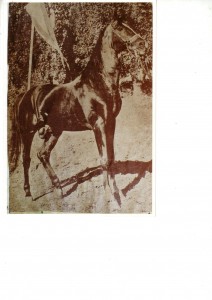 Photo courtesy of Hazaim al-Wa'ir (but I don't know where Hazaim got it from)