By Edouard Aldahdah
Posted on October 5th, 2010 in General, Turkey
I am really intrigued by the Arabian horses of Turkey, for two reasons.
First, as a student of Middle Eastern history, I am deeply aware that the area composed of the modern states of Syria, Lebanon, Jordan, Israel and the Palestinian Territories, and alternativelly known as Bilad al-Sham, Greater Syria, or the Levant (depending on who you talk to), was governed out of two cities during most of the last thousand years: Cairo and Istanbul.
Both the  Ayubid (1171- 1250) and the Mameluk Sultanates (1250-1516) ruled over this area from the city of Cairo, while the Ottoman Empire's domination of the same area out of Istanbul lasted from 1516 until 1918. The Ottoman Viceroy of Egypt Mohammad Ali Pasha and his son Ibrahim Pasha also ruled the area from Cairo for a brief period (1832-1840), when they openly challenged the Ottomans' authority. More recently, Syria and Egypt were also briefly united in one country from 1958 to 1961.
If Cairo and Istanbul were the centers of power and prestige, then desert-bred Arabian horses, which are themselves major objects of power and prestige, must have flocked to Cairo and Istanbul in large numbers over this entire period. They were either obtained as gifts, purchases for cavalry remounts or war trophies. While most everybody knows about the fabled Arabian horse collections of Ottoman Viceroy of Egypt Muhammad Ali the Great, his son Ibrahim Pasha and especially his grandson Abbas Pasha I, much less is known about the Arabian horses of the Ottoman Sultans in Istanbul. They must have been equally good.
When the Ottoman empire came to an end in 1923 in the aftermath of World War One, at least eight of the Sultan's horses were incorporated into the new Turkish Republic's Arabian horse breeding program. They were referred to as being from the "Palace". This is not unlike the Arabians of Abbas Pasha of Egypt forming the historical foundation  of Egypt's EAO breeding program.
The second reason why I am intrigued by these Turkish Arabians is that Krush Halba (Saqlawi Sh'aifi x Kuhaylat Krush), the foundation stallion of the Arabian horses breeding program of my home country — Lebanon — was sold to the Turkish Government for 200 gold pounds in the early 1930s, and fhas ounded a major sire line that still exists there.
Anyway, I am really intrigued by these horses, and I want to learn more about them. The excellent WAHO Investigation and Inspection Report on the Turkish Arabian Stud Book of April 1997, to which Basil Jadaan and Kees Mol contributed, is a good place to start.
Below is a photo of one of these Turkish Arabian stallions, Canberk (Tufan x Meliketulcemal). He was born in 1957.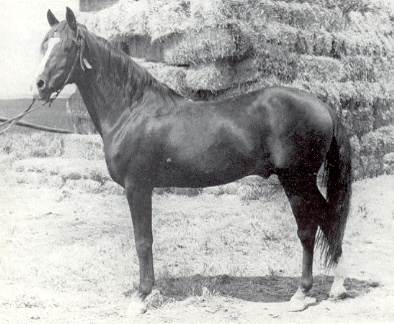 Compare with the two photos of the desert-bred Davenport stallion *Hamrah, below.