By Edouard Aldahdah
Posted on July 2nd, 2010 in Arabia, USA
If you haven't already done so, check out the overview article by the late Carol Lyons, on "Drissula, One of a Kind". Born in 1941, Drissula (Sultan x Ydrissa by Antez) is the only asil progenitor for the Ma'naghi Sbayli line of *Haidee, who was bred by the Sba'ah Bedouins and was imported to the UK in 1874. I already mentioned my soft spot for this strain.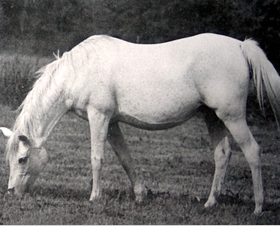 Some thirty five years ago, when my father asked the late Moussa de Freije, one of the foremost Lebanese authorities on Arabian horses, about why he held a particular M'anaqiyah Sbayliyah mare in such high esteem, the response of the French-educated Mr. de Freije was: "She is a Bourbon-Parma", in reference to one of Europe's most noble and blue-blooded dynasties.
While all Ma'naqi Sbayli horses eventually go back to one marbat (Bedouin stud), that of Ibn Sbayyil of the 'Ajlan clan from the Rasalin section of the Sba'ah Bedouin tribe, who acquired the orginal Ma'naqiyah Hudrujiyah and, in time, gave her his name, not all Ma'naqi Sbaili marabet  which subsequently branched out of his marbat were held in equal esteem. Even within the same tribe, levels of prestige and reputation associated with each marbat varied over time, and the fortunes of each marbat rose and fell with its mares merits in the desert warfare activities, the ghazawat (singular, ghazu).
In the first half of the twentieth century, the most reputable and respected of these Ma'naqi Sbayli marabet was that of Zudghum al-Mijlad (of the leading family of the 'Ajlan clan of the Rasalin section of the Sba'ah tribe). He was a close relative to the original Ibn Sbayyil, and his marbat came to be known as Ma'naqiyat Zudghum.
What marbat *Haidee came from is not recorded. All we know is that she was purchased from Sba'ah tribe, the general source of this strain, and that her sire was from the same strain.
Below is the photo of a mare from another Ma'naqi Sbayli marbat, that of Abu Tarbush, so named because it was owned by (non-Bedouin) members of a sufi order in the middle Euphrates valley. These sufis, who wore their characteristic red hat (the tarbush in Arabic) seem to have obtained their horses from the Sba'ah Bedouins, and their marbat became known as Ma'naqi Tarbush. I took the photo in 1996 at the stud of Kamal Abdul Khaliq, who owned the mare.