By Edouard Aldahdah
Posted on September 17th, 2012 in General
What follows are pictures of horses from a little known and much underlooked asil line in the USA, that of the Saud Royal Stud's Hamdaniyah Simriyah mare *Samirah, through her daughter Koweyt by Alcazar, Koweyt's daughter Konight by Kaniht (all from Albert Harris' breeding) and Konight's 1963 daughter Ameera Moda by Fa-Turf (so lots of desert horses upclose). Two pictures of Konight are below. All the pictures are from Carrie Slayton, a long time breeder of this line, to whom the credit goes for saving it from extinction. I had written about this branch of the *Samirah line back in 2009 (click here) but did not learn of its current status until Carrie contacted me recently, and we started a conversation about these horses, which led her to send me these pictures.
Carrie leased two daughters of Ameera Moda (Fa-Turf x Konight by Kaniht) from the original breeders — the Bancrofts — and bred them to asil stallions over the years. One such daughter is Sha Bint Ameera (below) by the Hamdani Simri stallion Fa Charlamar, of old Davenport/Babson/Saud lines. From the photos, Sha Bint Ameera looks like a mare of old desert type, the like of which you saw in Syria until a few years ago.
Below are Sha Bint Ameera's three daughters, the 1986 Sha Princess by the Saqlawi al-Abd Davenport stallion Kamil Ibn Sahanad (pictured here as a yearling) which was also leased by Carrie from the Bancrofts, and the 1987 Kalima Ma EEE by Cerulean CF, which was bred by Carrie (second photo), as well as thr 1983 "Undine" also by Kamil Ibn Sahanad, but she never got registered. Kali Ma EEE lost a foal by Kuhaylan Hayfi Wotan (Said Abdallah/Tyrebah by Tybalt) at 9 months gestation, and produced "Khazad", a colt that was never registered (not for lack of trying, says Carrie but because of the lack of transfer of his sire's papers by a previous owner) by the Kuhaylan Hayfi stallion Zfidl Fadl (Fidl Fadl x Danah by Hanad x Dhareysa by Dhareb x Aneysa by Farana x Antarah), who is just another time capsule, with very old American Arabian blood very close in the pedigree.
The 1995 "Khazad" (Zfidl Fadl x Kali Ma EEE by Cerulean CF) is a horse I would have used on my mares today, if he were still a stallion. Carrie sent me photos of him as a foal by his dam's side and as a young stallion. Take a good look at this horse, please, because this is what Bedouins and early travelers to Arabia meant by triangular head, fine muzzle, and big jowls.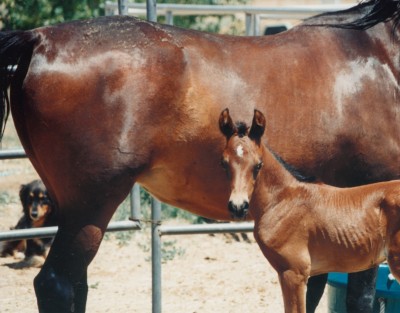 The second Ameera Moda daughter Carrie leased from the Bancrofts was Sha Ghazya (also by Fa Charlamar), picture below. An 18 year old unregistered daughter of hers, "Kristabelle", by Kamil Ibn Sahanad, is the last hope of this branch of the *Samirah line, and a registration effort is currently ongoing. Of course, the tail female line to *Samirah still survives in Al Khamsa through Samirah's daughter Kerasun, and I have written about this branch of the family before. So many good horses produced after so many efforts, yet so few still living!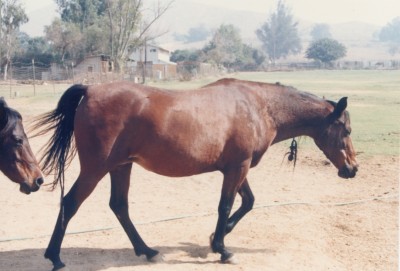 Finally, among Carrie's treasure trove of photos is this one of Kamil Ibn Sahanad (Kamil Ibn Salan x Sahanad by Abu Hanad) in 1991, whom she used on her *Samirah mares.