By Edouard Aldahdah
Posted on January 11th, 2010 in Arabia, General, Lebanon, Saudi, USA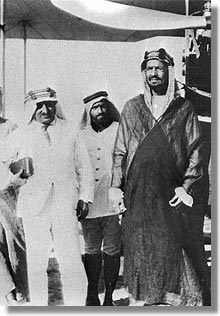 Lebanese-American Amin Rihani (1976-1940) was a man of many talents. He is best remembered as the man who introduced free verse into Arabic poetry. He was also one of the early figures of the Arab literary movement known as "kuttab al-mahjar" or  "writers of the diaspora" to which Khalil Gibran and other Arab-American intellectuals also belonged. He was one of the first intellectuals to support Arab nationalism. He was also a close friend of Saudi Arabia's king Abdul al-Aziz al-Saud, and wrote a number of accounts of his travels in Arabia such as "Muluk al-Arab" (Kings of the Arabs), which won critical acclaim, and "Tarikh Najd al-Hadith" (the Modern History of Najd). The historians of oil discovery in the Middle East will also remember him as one of the first brokers of the enduring relationship between the House of Saud and the American businesses in general and oil business in particular. It was perhaps through this latter role that he became acquainted with Arabian horses.
Rihani was influential in the importation of four Arabian mares bred by the House of Saud and imported to the USA by Albert Harris of Chicago in the early 1930s. He was also a key player in the importation of the Saud mare *Noura and her daughter *Muha to the USA. Lets pause here and see what the records say about *Noura, for she is an important mare.
*Noura was from the Stud of Abd al-Aziz ibn Saud, a bay Ma'naghiyah Hudrujiyah born in 1916 and given by Ibn Saud as present to Amin Rihani. Noura was apparently taken by Rihani to his Lebanon homeland, where she was bred in 1927 to 'a Seglawi Jedran, bred at the Stud of Omar Bey Dandash[i] in Akkar. This stallion was presented to General Gouraud, the French High Commissioner for Syria and Lebanon, and is now in the Etablissement Hippique de Levant. His dam, a Seglawieh Jedranieh, is still in the possession of Dandash[i] Bey of Danadeshah House of Akkar. The Danadeshah of Akkar keep in their studs only the pure Desert blood.' This was a quote from the Arab Horse Society Studbook of the UK, as quoted by Jane Ott in page v of the 1963 Blue Catalog Supplement.
This mating produced the bay filly *Muha, which Rihani imported to the USA in 1928 along with her dam. *Muha was her dam's only registered offspring. *Muha, very early into her importation to the USA appears among the horses of John A. George of Indianapolis, IN, an early breeder of Davenport horses and other Early American Foundation stock. It may even be that Rihani imported *Muha for John A. George, just like he imported the 1922 bay stallion *Saoud (also from King Ibn Saud, as his name indicates) on behalf of Don Schulz of Indiana in the same year.
While *Noura was listed in Miss Ott's Blue Arabian Horse Catalog (BAHC), the first attempt at listing the asil Arabian stock in the USA and otherwise the precursor of the Al Khamsa Roster, her daughter *Muha never made it to the BAHC: "*Muha may have been a Blue List. She was left out of the Catalog for lack of evidence. She was bred in Lebanon by Ameen Rihani, who had received her dam, the Blue List Muniqiyah-Hadruijiyah *Noura, as a gift from King Ibn Sa'ud of Arabia…" [quote from BAHC 1963 Supplement, p. v]. Jeanne Craver, who supplied much of the information above, also tells me that 'Miss Ott said she was unable to discover anything about Omar Bey Dandashi, [the breeder of *Muha's sire], and held open the possibility of including *Muha upon receipt of convincing evidence of Dandashi's stud's asil character.'
How I wish Miss Ott had access to more information about *Muha's sire, who was an asil Saqlawi Jadran from the famed Dandashi breeding of Tall Kalakh, Syria. *Muha's pending status in the BAHC meant that, while her line, when crossed with the non-asil blood of *Raffles (Skowronek x Rifala by Skowronek), became very popular in the USA thanks to Margaret Shuey of North Caronlina, no deliberate attempt was made to preserve it within American asil Arabian breeding. Last September on this blog, RJ Cadranell ran the first few generations of *Muha's 'asil' [inverted commas his] descendents:
'I haven't run the *Muha descent all the way down. Here are the first few generations: Sunny Acres Joepye (1952 mare) died in 1974. She was by the Davenport stallion Ibn Hanad, out of Joharah (by *Mirage), out of Rihani (*Saoud x *Muha). Joepye had a younger sister, Sunny Acres Panchita. They were otherwise Blue List descendants of *Muha whose "asil" lines are now gone. *Muha also produced Miralai (by Asil), dam of Zamira (by *Zarife), dam of Lamira (by Leidaan). Lamira produced a series of foals by Chanad (Hanad x Charmain) between 1957 and 1961. I have not looked at the progeny of the Chanad x Lamira foals yet. Maybe later tonight.' [Edouard update: this branch of the *Noura line is now gone, too]
*Noura's and *Muha's line is not the first asil line to go down the drain, nor will it be the last one. So what's the point of this, will you ask? Pointless grieving over the ghosts of long dead Arabian horses? I don't think so. I will tell you why I think *Noura is really important to asil breeding in the next post.