By Edouard Aldahdah
Posted on January 23rd, 2009 in Egypt, France, Tunisia
Another horse from Egypt that has left his mark on Tunisian breeding is the chestnut Ibn Fayda (Ibn Rabdan x Lady Anne Blunt's Feyda), a gift from Egypt's Prince Kemal El Din Hussein to the Tunisian government stud of Sidi Thabet. 
This chestnut Ibn Fayda, b. 1925, is the full brother of the bay Ibn Fayda, b. 1927 (picture below), who was the sire of the Inshass stallions Adham (xZabia), El Moez (x Bint Zareefa) and Zaher (xZahra). Inshass is Egypt's King Fuad's private stable, which had acquired the bay Ibn Fayda from Prince Kemal El Din.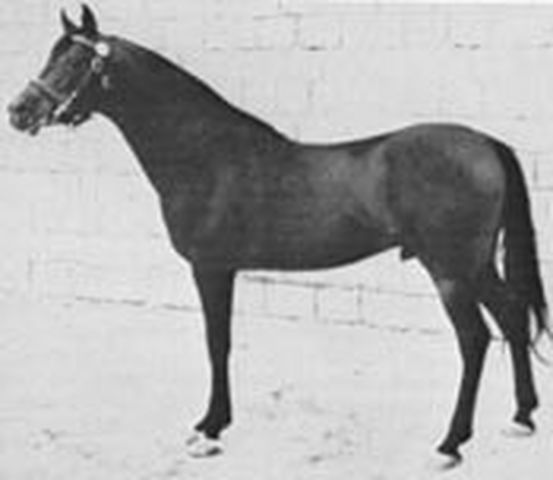 The chestnut Ibn Fayda (I've never seen a picture) had a long career at Sidi Thabet in Tunisia, where he was noted as a sire of broodmares. One of his daughters, Imama, produced the chestnut masculine stallion Ourour (photo below, by Duc) and another was the grand-dam of the beautiful brown stallion Sumeyr (photo below, by Bango O.A.) both of whom become important government stallions in France (Ourour at Tarbes, and Sumeyr at Pau then Pompadour). Sumeyr is the sire of the pretty Pompadour mare Ablette, featured here.