By Edouard Aldahdah
Posted on November 19th, 2008 in Syria
I first saw Mubarak in 1989 when an old truck disembarked a batch of three horses at the farm of Hisham Ghurayyib in Damascus, Syria.  I was told that the truck had just come from the desert area of al-Jazirah, "Upper Mesopotomia". It was my first encounter with Arabian horses born and raised in the desert. I was 11. 
My father was breeding Asil Arabians back then and I was familiar with the first generation offspring of desertbred horses, or horses born on the fringes of the desert, but I had never seen the "real thing". My very first reaction was one of disappointment.  Not only were the three horses – a black Kuhaylat al-'Armush mare, a fleebitten Kuhaylat ibn Mizhir mare, and a chestnut Hamdani Ibn Ghurab stallion – tiny, they were worn out, and extremely thin. They feet were badly damaged, and the hooves were so overgrown that the poor horses could badly walk. Were these the "horses of the desert" (khayl sahraa)? 
My father had given me his Nikon and asked me to take photos of all the horses, while he was checking them out and asking about their origins. I took a rapid photo shot of the Hamdani colt, then two years old, partly for the record, and partly because of his shiny chesnut coat, and a twinkle in the eye. There was something about these wet and shiny eyes that I couldn't quite get: either the horse was in pain and about to cry (I was only 11, okay?) or it was the expression of a contained determination bordering on anger. I was in awe and kept a respectable distance between the two of us. 
Two years later, I saw the same horse at Basil Jad'aan's farm outside Damascus. He had bought the horse from this Shammar Bedouin breeder, and had him carried to Damascus in the same truck as the two Ghurayyib mares. The horse was scheduled to stay at the Ghurayyib farm for a few weeks when I first saw him.
Meanwhile two years of good care and attention had elapsed, and the horse was transformed. But he still had that twinkle in the eye, and then 13 year-old me finally got it: the look was the expression of pride. The young colt was now a stallion. I took a photo (below).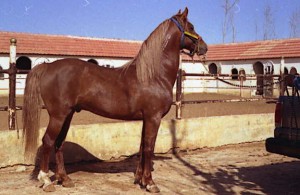 The name of Basil's chestnut stallion was Mubarak ("the blessed one"). He was his herd sire, and Basil was justifiably proud of him. He was a Hamdani Simri from the marbat of Abd al-'Iyadah al-Dar'aan al-Ghurab ("Ibn Ghurab" for short), the shaykh of the Bhayman section of the Shammar tribe. This strain is perhaps one of the two or three most prestigious strains of the Shammar of Mesopotamia. [I'd put it on par with 'Ubayyan Suhayli and Kuhaylan al-Wati, but that's a question of personal preference].  
The strain was so well known among the Shammar and other Bedouins that it was simply referred to as Hamdani Ibn Ghurab. It will be the subject of a future entry in the "Strain of the Week" series (future entries are piling up in this series, and i am getting concerned). 
Years later, I visited Mubarak's breeder, Ibn Ghurab, in Upper Mesopotamia, with friends Radwane Shabareq, Kamal Abdul Khaliq, and Hazaim al-Wair. I took this photo of him, one of dozen photos of his horses and family that I will post on this blog in due course. Ibn Ghurab passed away last year, and his eldest son is now in charge of the herd.