By Edouard Aldahdah
Posted on August 13th, 2014 in General
I recently acquired DA Ginger Moon (DB Destiny Moniet x Kumence RSI), a 1998 Saqlawiyah Jadraniyah, from Sheila Harmon of Destiny Arabians, Idaho. She is tail female to the Blunts' desert-bred mare Basilisk through Rabanna, and has lots of Blunt/Ali Pasha Sharif blood throughout the pedigree. Photos below, taken by Sheila in 2009.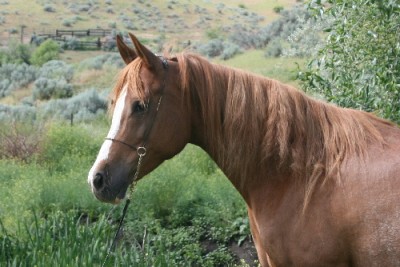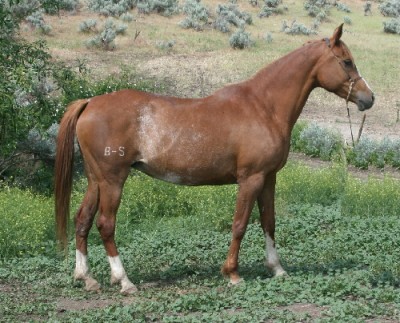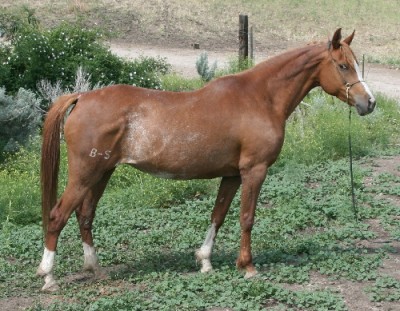 I have long been a fan of these highly authenticated Blunt and Ali Pasha Sharif lines, which, a hundred and fifty years after their importation from the Arabian Desert to Europe then the US, continue to produce high quality horses from time to time, close to the original Arabian type. These lines also do very well in endurance (cf. Bint Gulida and Linda Tellington Jones, see photo), and are being increasingly recognized and celebrated in this field.
Her pedigree is composed of three lines to Rabanna (Rasik x Banna by *Nasr, 75% Crabbet/SO), three lines to Ghadaf (Ribal x Gulnare, 100% Crabbet/SO), three to the Doyle foundation mare Gulida (Gulastra x Valida, 100% Crabbet/SO), three to *Rashad (Nazeer x Yashmak II who was out of the Crabbet mare Bint Rissala, almost 50% Crabbet/SO), and three to *Bint Moniet El Nefous (Nazeer x Moniet El Nefous, low percentage Crabbet/SO), as well as one line to Fa-Serr (*Fadl x *Bint Serra, 50% Crabbet/SO) and one line to Nusi (Gulastra x Nusara, 100% Crabbet/SO).
As much as I already liked these lines on paper, I got to like them even more after getting to know my Jadiba (Dib x Jabinta) who is 87.5% Crabbet/SO, with three Doyle stallions on top of the pedigree. There seems to be an inextinguishable flame of true and original Arabian characteristics running in these lines, which their endurance record is increasingly revealing.
DA Ginger Moon (aka 'Ginger') comes with her newborn of two weeks ago, a black colt by the Babson stallion Serr Serabaar. That colt is for sale. Sheila tells me that his full sister (photo below at Cougar Rock) is doing well in endurance riding, completing her first Tevis Cup 100 mile ride last year with a 52nd finish out of 75 finishers (and 160 at the starting line). Photo from Institute of the Desert Arabian Horse, with rider and owner Chris Yost.