By Edouard Aldahdah
Posted on August 28th, 2008 in Arabia, Egypt, Poland, Saudi, USA
Western Arabian horse breeders are relatively familiar with the Arabian horse strain of Kuhaylan al-Krush (also known as Kuhaylan Krushan) through a variety of sources. A specific branch of this strain, Krush al-Baida ("the white Krush") will be the subject of the sixth part of the "Strain of the Week" series (which, by the way, is starting to look like a "Strain of the Month" in disguise). For now, I'll start the discussion with a brief resfresher of the encounters between Arabian horse breeders and the more general Krush family (beyond Krush al-Baida). Feel free to pitch in with feedback in the comments section of this blog post if you noticed that I omitted a reference or more, or visit this site, which also offers an overview (with pictures) of the main Krush lines around the world.
The early fame of Kuhaylan al-Krush was certainly associated with the quest of the Egyptian Viceroy Abbas Pasha I for Asil horses from this strain. Several sources (or perhaps one source that was quoted several times, will look that up later) tell us that Abbas's quest eventually failed, and that Bedouin owners of Krush mares refused to sell them, or give them as gifts to one of the most powerful rulers of the time. Bedouins even went as far as composing poems in which they tell their pride in thestance they took  (the famous poem which starts with "Ya Bey ana Krush la-ahdi wa-la Bee' – O Bey, I won't sell Krush nor will I give her as a gift – is one).  Such was the high esteem in which horses from this strain seemed to be held by their Bedouin owners.
The reality appears to be have been rather different, however, as the Abbas Pasha Manuscript (more on this book later) mentions at least two mares of the Krush strain in the "High Stud" of Abbas Pacha…
In 1878, Lady Anne and Wilfred Scawen Blunt imported the mare Burning Bursh to England as part of their "First Attempt" at founding an Arabian Horse Stud [Aug. 29 update: Michael Bowling rightly reminds me that the phrase "the First Attempt" refers to Lady Anne's earlier horses at Sheykh Obeyd, which she eventually gave away, and that the phrase doesn't apply to early Crabbet imports. Thank you Michael for the correction]. Burning Bush was said to be a Kuhaylah al-Krush, coming from the area of Hama, in central Syria.  Apparently, the Blunts did not think highly enough of her (or her origins) to retain her at Crabbet, and she was quickly made away with a few years later. Nothing remains of her descendance. [August 29: Michael also tells me Burning Bush produced only one recorded foal, a filly which died after a few days, so she didn't really have a chance to found a branch of the strain. He adds that she went blind and that after a few years was given to Miss Dillon. It is possible that had she kept producing, the Blunts would probably have kept her]
In 1906, Homer Davenport imported *Werdi to the USA. A chestnut Kuhaylat al-Krush tracing to a mare also from the same Syrian city of Hama, *Werdi founded a long dynasty of Asil Arabians that endures until today.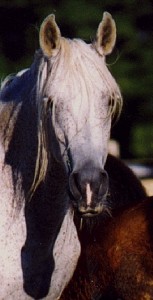 In 1911, and after many years of negotiation through her agent Ali Abdallah al-Bassam, Lady Anne Blunt, then living in her Egyptian estate of Sheykh Obeyd near Cairo, succeeded in importing a Kuhaylat al-Krush mare, Aida, and a white (not grey, white) Kuhalyan al-Krush stallion, Krushan, from the Arabian desert.  The two prized animals were followed in 1913 by another chestnut mare of the same strain, Jauza. Jauza become a favorite of Lady Anne's in her later years. An entry in her Journal singles out Jauza as the only one with "an undefinable charm" among the prized Sheykh Obeyd band of broodmares. All three Krush horses produced at Sheykh Obeyd, but were eventually lost at Lady Anne's dealth in 1917.  Only Jauza's daughter Jazia resurfaced in Egyptian pedigrees, albeit briefly and sparingly, as the dam of the stallion Ghandour, used by the Egyptian Agricultural Organization in the 1940s.
Lady Anne had already seen a Kuhaylat al-Krush during her visit to Muhammad Ibn Rashid, the ruler of Hail in Arabia, and seemed to have been quite taken by her, despite what she described as a plain head. It is also very significant that of out of her last six desert bred imports – Krushan, Aida, Jauza, Dohayya, Saade, and Saadun – half should be from this one strain.
In June 1927, King Ibn Saud of Najd sent a 1921 white (not grey, white) desert-bred Kuhaylah al-Krush, Dafina, to Lady Wentworth through the Sir Gilbert Clayton, a top British official based in Cairo.  She left many offspring but none of her current descendence is Asil. Pity.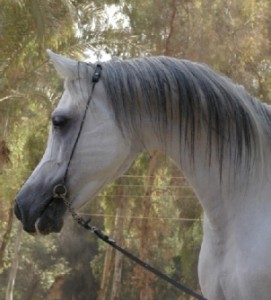 Also in 1927, Ibn Saud gave King Fouad of Egypt a desert-bred mare, El Kahila, with no mention of a strain. However, the studbook of the King Fouad's stud of Inshass lists El Kahila's daughter El Zabia as being of the Kuhaylan al-Krush strain.  [Query: Will mtDNA comparison with Dafina's descendence validate this claim?]
[November 30 update: In 1931, Bogdan Zientarski and Carl Raswan, on a buying trip across Arabia, bought the chestnut 4 year old stallion Kuhailan Kruszan from Hamad ibn Fahad al-Saadun, Shaykh of the Muntafiq Bedouin tribe, for the stud of the Polish prince Roman Sanguszko.] 
Finally, in 1937, the same King In Saud gave also gave a Kuhaylat al-Krush mare, Faras, as a present to King George VI of Great Britain, in a batch of four horses that also included *Turfa. Faras didn't even have the chance to produce registered Arabians.
To sum up, El Kahila's line, along with *Werdi's, is the only one to have left Asil Krush descendents in the tail female. The other lines are gone. Yet others Krush lines remain elsewhere…